Hopeful Dreams
April 27, 2017
You open your eyes.  The sunlight is too bright to bare at the moment.  You reach for the sunglasses in your bag and smile when you put them on and can actually see in front of you.  White sand, crystal water, and a blue sky.  Your favorite sight to see.  You can feel the annoying sand in between your freshly painted toes, feeling as rough as tiny pebbles.  You both love and hate the feeling, but it's a tradition that only occurs in your favorite place.  You can already feel your skin burning as if it were touching the sun, even though you just reapplied your sunscreen twenty minutes ago.  You can hear the waves crash on the beach, bringing everything beneath them back and forth.  You see the cloudless blue sky with the sun beating above your head.  This is your happy place, a place where you can feel calm and not have a worry in the world.  You stand up slowly, soaking everything in, and turn around to look at what's behind you.  The beach house and newly built tiki bar come into view.  Next to them are the enormous condos and hotels that you love to look at.  The familiar sights make you smile.
You wander down to the waves, trying to take that perfect picture that never really ends up looking the way you want it, so you give up.  That's when you feel the foamy waters connect with your skin. It's cold at first but then it feels like home.  You look around at your feet and see the newest collection of seashells the ocean has brought for you.  If you're lucky you might even see one of those tiny crabs or minnows traveling beneath you. 
All of a sudden you hear water rushing towards you and see a huge wave up to your head coming full force right before your eyes.  You do not even have time to wonder how this wave could be so tall, considering you were standing on the shoreline, not in the middle of the ocean.  Just before the wave is about to crash right on top of you, you jump up from your comfortable bed.  You look around and see the regular old dresser and closet and sigh.  The beach is your favorite place, even when your mind is resting you're thinking about it.  Blinking your eyes a couple times you remember the three papers and four tests you have coming up in the next five days.  You sigh to yourself once again, you can get through six more weeks, right?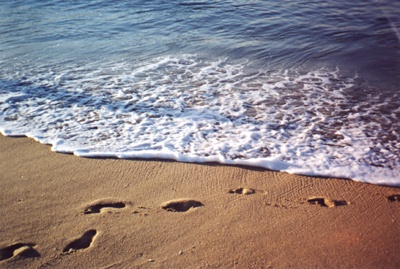 © Daniel M., Phoenix, AZ