The Answering Tree
March 14, 2009
In our circular, loft room, which sits atop a tall, sleepy apartment building at the edge of the city, a pitiful, bedraggled Christmas tree could almost always be seen. It stood sentinel over the dark, dusty room, bringing with it a little bit of joy, just enough so that it stayed up all year round, even after the snow had thawed and it became clear that no presents would magically appear under it, at least not for another year. Our pale, tired faces barely had time to fall before my oldest brother, Jack, would announce that we'd keep the tree up, give it another chance. Sometimes its presence was a morbid reminder that our mother couldn't afford Christmas presents for us, but it also held a bit of hope, and we held onto this hope by keeping it standing.


The tree had been through hell. The year Jack turned ten, we found it next to the dumpster, dejected and alone, and all together, we five brothers somehow got it up several flights of stairs and into our sleepy bedroom, away from the snow. We fell in love immediately with its tall plastic frame and the stalks of green, prickly bristles that jutted out from the sides, giving it the look of a menacing wreath of thistles. But we didn't care that it was grumpy. It was ours.


We decorated our prize in candy canes, and we placed a star made of paper, colored with a yellowish crayon, at the top of it. The topping was the sort of color that could only be found in a box of a few hundred Crayola crayons, or on the sidewalk, looking dirty and broken in two, trampled on one too many times. Ours was the latter.


We looked for prizes like broken crayons as we skipped along the city's busy streets, our sodden knapsacks in our icicle hands, not paying any mind to the jeers of our classmates. Skipping was viewed as unsightly by boys our age, but we didn't care; I certainly didn't. I was the youngest, only five years old at the time and just starting school, feeling luck running through my veins by the fact that I was running around with my older brothers, who, in my mind, were the coolest people I knew. They weren't particularly popular in school, perhaps because of their secondhand clothes, battered notebooks, and obvious and almost obsessive loyalty to their brothers, but I had no idea, and if I had understood, I don't think it would have mattered.


Turning onto our street, we collectively frowned; the pearly white and perfect blanket of snow that had fallen the night before didn't look even remotely the same. We didn't understand why shovels had gone to work on the sidewalks, and large machines on the streets, to clear the beautiful white stuff, mixing it with the filthy city floor until it became an unpleasant shade of gray. The snow gods would try again the next day, but no lesson would be learned by the people, so the new flakes would meet the same fate, and it would be a long cycle, only ending after the last snow fell.


That was the year when Jack told us all that our tree had magical powers. He convinced us to write questions on tiny paper scraps and slip them into the prickly branches of the tree, and the next morning, answers were crisply written on yellowed, crinkly paper that had been ripped out of a notebook. Offers to the answering tree became a daily affair, and everyday, we could expect fairly good advice coupled with witty remarks to pop out of the page. We held onto them with the inky black letters, stuffing them into our bulky pockets with care not to rip them. They soon became our most prized possessions, after the tree itself, of course.


The next year, we discovered the library, and thus an informal tradition was born. We jumped up and down in excitement before collapsing on our bunk beds and devouring tales of boy wizards and faraway worlds. Soon, Jack once again thought up an idea we deemed spectacular, and we all picked out library books for each other before wrapping them in old newspapers. On Christmas morning, they all rested under the tree, looking expectant. We read them front-to-back. They were perfect.


The answering tree became something we gathered around. Jack told us everything he could think up about it, and I think most of us even believed him when he first told us that it held candy canes because sucking on peppermint helped it to think. As we grew older, we began countering his lying attempts by accusing him of reading too many storybooks. He really did have a runaway imagination. That certainly didn't stop him, though. He continued to answer the petulant and occasionally amusing questions we stuck in the tree, even after we knew he had been bluffing about everything. Being the youngest, I was the last to work my mind around the fact that he'd been kidding us, and none of them let me live it down.


I certainly miss that old tree. Jack has it now, at university. I really can't blame him for taking it with him, but the empty spot it left sometimes feels almost as bad as the empty bunk beds that used to hold three of my brothers. It's just me and Paul and Mom now. Maybe Paul will lend me some money so that I can buy a new tree, but it don't think it'll give me what I need. It wouldn't be the same.


Maybe what I need isn't a tree. Maybe it's something different.


I think it's time to call my brothers.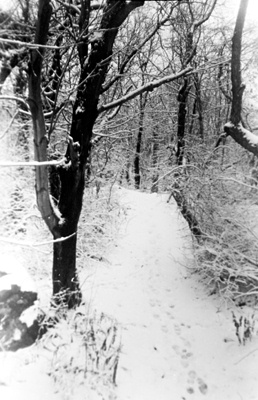 © Kelley C., Marblehead, MA