Everyday
April 3, 2017

I woke up in a ball of sweat, wearing nothing but my boxers. Drowning in the ugly red floral print my wife had picked out, I was hunched in a ball pressing my knees to my chest. The faint noise of the television brought me back to reality as I struggled to throw the heavy comforter off of my body and crawl into the tiny bathroom.
The color of the walls always had given me a headache. These days, I always have a headache accompanied by a sharp pain in my chest. The walls were fluorescent blue, like my wife's car, her favorite color. I remembered painting those walls with her and how much she laughed that day. I hoisted myself to my feet and took a look in the mirror as that memory faded from my mind.

My eyes are blue, but apparently not "just blue". They are a pool of sapphire, like a piece of the sky that could draw people in and catch their gaze. My eyes are my best physical feature, at least that is what my wife used to say. I stared into them while they filled with giant watery tears as they lost their powerful subtleness.

After an unsuccessful attempt to pull myself together, I managed to walk down the hallway of our empty house. I listened to the sound of my steps bouncing off the walls as I glanced over at the pile of artworks I was supposed to hang. It was a surprise; I was going to hang paintings and pictures for my wife, but they continued to lay on the ground collecting dust, just as they had for the past 3 months. I never got a chance to hang them.

Still in my boxers, I swiped a dirty blue baseball shirt off the floral print upholstered couch and threw it on. I grabbed jeans and slid them over my no longer muscular legs and proceeded out the door. I did not care about the 39 missed calls on the voice mail, they were unimportant.

The annoying keys jingled in my pocket as I strolled up to my wife's blue, but dirty and muddy cabriolet that had not seen the car wash in the past 3 months. This was her birthday present about 6 months ago. I got in the front seat and put the keys in the ignition.

After just 10 minutes I found myself in front of Flora Verdi. I opened the door and the scent of flowers consumed me. I grabbed a dozen blue orchids and quickly went up to the florist so I could make my purchase. It was $24.99 but worth every penny. I left the shop and got in the car once again. I carefully placed the flowers shotgun so they would stay together and look nice when I picked them up once again.

When the word Oakdale appeared I knew I was there. I carefully parked on the side street, grabbed the orchids, and made my way through the familiar gate. Coming upon the love of my life, I broke down in tears. I never had made it this far without crying, and this made me cry even more. I was losing her. I was healing. I did not want to.

I sat beside her, placed her favorite flowers on the ground, and read the engraved words that would never be enough for me to define her. "Gia Louis Rossi, Wife, Daughter and Friend. Always beautiful." She was more than this, she was my best friend. She truly was always beautiful, not just because of her gentle and gorgeous appearance, but because of her mind and soul. She did not get enough credit for either of these things.

"I love you." I said softly. Then, for a split second, it was as if I could see her again, her beautiful brown hair falling upon her shoulders, and the mesmerizing smile that made me fall in love.

"I love you so much more." I imagined her saying.

"How could you leave me? I can't believe-" I sobbed. An immense pain struck my chest; it was as if someone was pushing down on my lungs and would not stop. I could not breathe, it was too hard, and quite frankly, I did not want to.

"I didn't choose this, I'm sorry, don't cry, I'm here. I'm not going anywhere." The faint sound of her voice in the back of my mind replayed continuously.

"But you're not here, with me, I need you here." I did not try to scream, but I did. The words poured out of me. I caught my breath and imagined how she would comfort me if she were there. I wondered what bright and perceptive words she would say to calm me down.

"I am still with you, I am always with you. Everyday."

Those words ran through my mind for as long as I can remember. When I stopped going every week, when I forgot her scent, when it hurt less and less to look at the pictures, remember the memories, I thought of those words. She never said them, but I knew if she were there, she would have. Her story remained unwritten, her thoughts cut short, her paintings never finished. And I miss her. Everyday.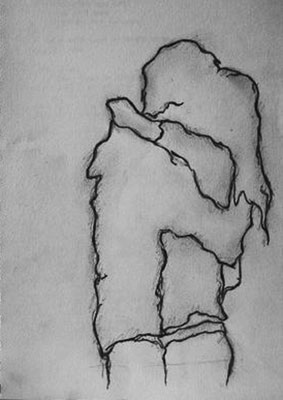 © Nicole B., Newcastle, WA