The Crimson On The Floor
March 21, 2017
The crimson red of his blood ran warm over my cold trembling hands. My heart, beating out of my chest, pounding to its own erratic desperate rhythm like a child gasping for breath after being held underneath the violent ocean waves. Never would I love another being the way I loved him, never could I, never should I. I remember the first time I saw the messages between him and the first mistress, I remember finding a perfume soaked t-shirt in the backseat of his car and even more vividly I remember coming home and hearing soft footsteps across our bedroom floor and finding a red haired skank on my side of the bed.
I found numerous tight red curly strands of hair throughout the room months after. My thoughts filled me with an indescribable rage, my brain suffocating to the toxicity. I repeated to myself that "he deserved it," countless times, a sad attempt to justify what I had done. No! On second thought I was right, he had cheated too many times to count, he came home every night reeking of cheap perfume and bourbon, he pushed me around, and he would slap me and tell me how much of a whore I was and how no other man would take me into their life. Some nights I hadn't the slightest clue as to how he didn't crash his car on his way home in his intoxicated state. I'd see the headlights from the driveway and my whole body would become tense with fear, I'd hear him slam the door and his boots stomp up the steps and my chest would tighten. It got so bad I'd hope that the next beer he popped open would be laced with arsenic or some kind of poison to save me from his anger. Occasionally I got lucky and the wall would catch the blow of his fist instead of me.
Tonight was the worst night I can remember, it started with the threatening drunk text messages, menacing and disgusting. Around 10:45, I heard him slam his truck door, muttering some profanity to himself, and the stomping of his boots on the steps to the porch. My leg began to shake as I sat at the kitchen table, the cold metal of the handgun sent a chill down my spine. The front door screamed open followed by the screen door slamming shut "Kenzie!" he hollered, "Where you at now?". I stood up and faced the doorway, he came barreling in and I instinctively raised the gun, pointing it at his chest. My dad had always taught me if I'm gonna do something, I better make it count. When he came to the realization of what was happening he let out a cold chuckle. The way he looked at me flooded my veins with a hot rage and I moved my finger to the trigger, I sharply inhaled and as I began to exhale I pulled the trigger. The room began to spin and the next thing I knew I was staring at the pool of crimson on the old wooden floor.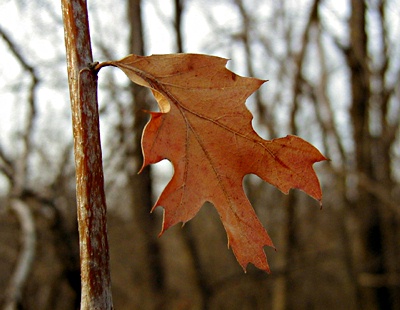 © Brad H., Lemont, IL