Never Alone
February 6, 2017
"Twin, two children brought forth at a birth" (Barnhart, Clarence Lewis)."Twin, either of a pair of offspring born at the same birth" (Houghton Mifflin). "Twin, consisting of two identical or similar relations (Roget's II)." Twin, to never be alone.
I've never been alone a day in my life. From the moment I was created, I've had someone beside me. At birth, there wasn't just me. There was another cute little baby beside me. Sharing my mother's love as she held us. 
Hunter and I stood at the end of our driveway, the sweet smell of morning hung in the air and wrapped us in its welcome. I had a big bunny pinned to my shirt with my name on it. Hunter had Clifford pinned to his and his name. We both waited for the bus to come pick us up and bring us to our first day of Kindergarten.
Most children cry on their first day of school. They latch onto their mother's legs begging to stay home. We weren't one of them. I believe it's because we had each other. We weren't going off to the scary kindergarten alone. We were going together.
I've never had a birthday party to myself. Hunter would have his own boy cake that usually consisted of a superhero theme, and I would have my princess cake. Hunter would invite his friends, and I would invite mine. Making sure that none of our friends were friends with each other. The entire day was shared. When I was young I hated that, I wanted the day to be all about me. Growing older, I've now realized I don't want that. I've shared every major life event, and I feel uncomfortable having a party all about me. I'd rather share the limelight with Hunter.
When I was getting my driver's license, I was unbelievably scared. My car broke down the day before, and Hunter and I were about to take the test in a car we had never driven before. With my weak legs, I sheepishly walked into the DMV, and sat down on the worn bench. Shortly after the instructors walked in a straight line into the office and slammed the door. Hunter and I sat there in disbelief. My anxiety levels went through the roof, and I could feel Hunter growing nervous beside me. What felt like ages later, they finally opened the door. A twin connection went through us that moment. We looked at each other, and without words told each other "You can do it.". Hunter and I stood up and walked toward them, ready to conquer the task that laid ahead.
Last spring Hunter and I became adults in the Catholic church. The morning was wet and gloomy. Hunter and I approached the church, the wind was blowing at his tie, and sweeping through my dress. We walked into the house of God and found our spot on the hard pews. Our sponsors were waiting kindly behind us.  Shortly after our classmates found their seats and joined us. They stood alone with their sponsors behind them. We all waited our turn to walk up to the bishop and speak in front of the church. Yes, Hunter and I walked up to the bishop alone. When we both returned, we returned to someone, unlike our classmates.
The first day of college is nerve-wracking, my older brother Zach said. Strangers surrounded him everywhere he looked. He felt alone. Luckily, this won't be the case for Hunter and I. We'll be going off next fall to the same college. Move in day will still bring forth some apprehension, but not nearly as much as it did for Zach. For me, meeting strangers is a hard thing. I become nervous, shy away, and want to revert back to what's comfortable. Hunter can get thrown into any situation and go with it. I'm happy I will have him with me in college. He will make meeting new people for me trouble-free.
As long as Hunter and I have each other we will never be alone.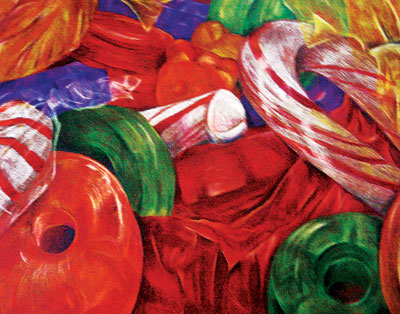 © Amy Z., Edmond, OK