Tattoos Worth Living For
February 3, 2017
June 20, 2016

Mary, I am finally feeling like myself again. I guess it is about time since it has been two years. The pain of your loss is still very real and at times I feel like I'm drowning, but I don't feel like it should end me. When the dark thoughts come, I think of you. I remember how happy you were and how all you wanted was to give us the joy you constantly feel.. I can't explain the truth behind my tattoos to others, but I know they are your final gift to me. You kept me from giving up. These tattoos will remind me to keep moving on. Today I started what I promised, I had over three hundred yellow balloons at the beginning of the day, each one filled with your legacy, one that will encourage happiness, hope, like you did to me. You are my sunshine, my star, my yellow balloon. When I feel the darkness closing in, you are the light that chases it away. I love you, Mary. I always will. And I thank you for your art on my skin. Happy Birthday, Mary. Rest.
~Love, K
June 10, 2016
Dear Mary,
I know it's you. It has to be you. I can't decide if you're a ghost or something more, however, I'm aware this is some kind of act of God. I know this is real. The tattoos are forever a part of me and I think it is because of you. I don't mind now. The newest one appeared last night after I got home. A tall tree on my left side now stretches from my side boob to my mid thigh. It's beautiful and I hope that is what my tree will look like when it grows. I planted it out in the Hawthorn in the back. It looks like a fairy tree, which was the point because I know you would have loved it. And now thanks to the tattoo, I will always remember the feeling that life will go on, even if it feels wrong from time to time. Sometimes I still feel guilty because I'm still here and you're not and that is my fault. I failed you. But I believe I should stay, for you. You didn't have a chance to do the great things I knew you would. You didn't get to spread joy to everyone you met. But I will do it for you.
~K
May 31, 2016
Mary,
I am Scared. It's crazy to think this but I have no other choice. Are you the reason for these pictures growing on my skin, documenting moments I don't want to remember? I got home and saw the stars spread across my face, it's own version of the night sky. It looked the same as the sky I had been staring at moments before. It made me feel small. Before my problems felt they would be short and my life was worthless in the grand picture. That you and I did not matter. But looking at the world's art, I got the crazy idea I had been wrong. Because the night sky isn't beautiful when no stars are shining to stand against the darkness. Life is like the sky; each life is a star. Alone, it isn't striking. But put them all together and we can see beauty. The sky was my hope. Mary, you were my bright sun, warming me day to day. Now you're far away, joining your fellow stars, joining together for this picture for me.
~K
May 4, 2016
Beloved Mary,
The joke that is my life continues. I had the day planned: finish the last day of school with my perfectly placed smile and forced laughter, go home, and finish what I failed to do last month. Living with my guilt and sorrow is too much. All my thoughts go towards the bleakness of it all. I witnessed first hand what death does to the survivors- the true victims of tragedy. The deceased doesn't have a clue about the pain they left us in. Everyone moves on from death. I can see if in mom and dad. They are getting their life back while I have lost hope in my own. So I was going to end it.

That was the plan at least. But life is weird. I was at lunch, listening to the group of people I used to relate to discuss matters that no longer mattered to me. Then the topic changed to subjects of hope. I was not in a place to be hearing about hope. So, I said to the table, "hope isn't real. Life is darkness. It's a bottomless pit of black waters. You can't escape. You can only use others to force your head above the water or give up and drown."

I don't know why I even said it. Tipping people off about my plans was the last thing I wanted to do, but it slipped out. I expected the looks of judgment, but that's not what I got. My best friend took my hands. She looked at me with such compassion and understanding, it brought tears to my eyes. Then she said, "when it rains, there is light. It may not be easy to find, but it's there and it's up to you to find the rainbow. And when it is dark, look at the stars. Remember dark waters may be scary, and you may wish to drown, but all you have to do is swim."

She hugged me while I cried. But later I recalled her words. When I did, I felt that warmth again. This time it was in my chest, but not in the cheesy metaphorical way. I went to the bathroom, took off my shirt, and saw her.

Sarah, my best friend, was tattooed over my heart. I don't understand how it got there, but I get why. Something is my is making these pictures as a reminder, pushing me to get to a better place. However, all I wish to do is give up. I feel like I shouldn't feel so bad but at the same time, I don't want the world to care nor do I feel like I deserve it.
~Love K
April 15, 2016

Dear Mary,
I am freaking the f*** out. I WAS READY TO GO!! I was in the tub, feeling the scalding water on my skin. My body was heavy-tried. My face ached from screaming and my skin dried out from constant tears. I can't live with myself. The sight of my own face in the mirror makes my stomach churn. I want to break the reflection, to destroy what I see. And this is how it's done. No one understands this. They act like I am some depressed kid. Maybe I am. But I KNOW this. I KILLED MY SISTER.

Why do people act as if I am the victim in this? I am the criminal. I deserve punishment that one one else will deliver. How the hell am I supposed to move on from that?! You are the one that is dead, Mary. Moving on is wrong. I won't and I can't do it.

I'm ready but something stopped me. As I sat in the growingly pink waters, I felt a sharp warm pain. I know the usual pain from the razors I held in my opposite hand. That pain was dull and it only left a sting in its wake. This pain was different. It wasn't skin deep, but I could feel it in my bones.

So I looked and saw them. A cluster of yellow balloons. What. The. F***? Whatever is going on, it is cruel. I tried everything to get the damned things off. I burnt, cut, drew over the area and nothing worked. The skin healed, completely clean. It didn't even hurt in the spot anymore. I cried for two days after this. I'm terrified and confused. No one knew about the balloons but you and I. And I can never explain why I refuse to look at the sinnfully joyous picture without feeling you loss over again, each time more painful than before. I can't.
~Help me, K
April 13, 2016

Dear Mary,
I'll be there soon.
~Love, K
June 20, 2015

Dear Mary,
My therapist said I should write to you. It won't help. School will suck without my baby sister to talk to. Happy Birthday Mary
~Your sister, Kaylee
August 31, 2014

Dear Diary,
I haven't written in you for a while. I guess I should explain. Writing is supposed to help or some s***, right?

So a couple months ago was Mary's birthday. I wanted to show her the waterfall I found in the woods behind our house. She was turning six so mom was finally letting her come with me. She and I were ecstatic because the woods was our enchanted forest where the fairies, witches, unicorns, and elves lived. And she was old enough to play with them. We never had tons of money so all my mom could afford was one present. When asked what she wanted, Mary said she wanted yellow balloons. Curious, I asked why that instead of toys.
Then she said "I just really want to be yellow like the sun. It is bright and warm. And I want to shine warmness on everyone."

And that was it. Mary was always like that. So caring and sweet, even at a little kid age. When we set out in our mythical world, she took the sun with her.

But later it started to storm. The wind picked up so we started back home. But- but Mary tripped. She let go of her bright balloons then the wind ran with it.

She chased after her balloons desperately, dodging trees and rocks. I couldn't keep up with her. I was tripping too much and too slow to stop her. I was only far enough behind to watch her fall. I watched as her small body tumbled over the waterfall, hitting the rocks at the bottom. I never screamed so much before. I couldn't save her. I couldn't call for help. I am only eleven. I don't even have a phone. But I couldn't leave her alone. I joined her at the bottom and saw the blood. It soaked the surrounding earth and it soaked into my mind. The red fills my mind every time I close my eyes. Along with those goddamn balloons.
~K
June 19, 2014

Dear Diary,
I'm so excited! Tomorrow is Mary's birthday! She is going to be six finally! I can not wait to give her my present. She is going to LOVE this waterfall! It reminds me of being a princess and the rocks below look like something mermaids would sit on. It's really late. Mom is going to yell at me to go to bed if she catches me writing but how can I sleep with this much happy in me?! I wanna wake Mary up to look at the stars but she will get cranky. Tomorrow is going to be so much fun! HAPPY HAPPY BIRTHDAY MARY!

~Love your best friend and greatest best sister ever, Kaylee I love you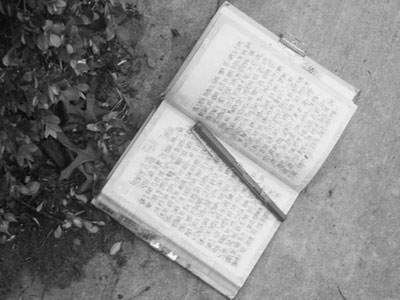 © Quinn B., Lubbock, TX