Nannies R'us
November 13, 2016
FOR PREVENTING THE ESCALATION AND LONG TERM PERPETUATION OF CHILD ABUSE

It is a melancholy object to abuse and neglect children and the future conflicts will escalate is not eventually solved. I think it is agreed by all parties that the life- threatening occurrence of child abuse in extreme severity of the social issue really is a problem and someone needs to find a solution and should also be rewarded for their efforts in doing so. A heart-stopping 3.1 million children were affected by child abuse in a year. Child abuse happens all over the world. It happens for all different races, genders, age groups, and ethnic groups.

I think it is agreed by all parties that the life-threatening occurrence of child abuse is getting worse. Every year a lot more children are getting abused and family members are getting abused and we need to stop it before it gets even more out of hand. Five kids die a day from child abuse and neglect and at the rate we are going it just going to keep increasing. We need to find a way to stop it before it gets worse and teach all children, partners, etc that it's not okay to hurt one another. We need to start setting a better example for our children and our future grandchildren.

But my intention is far from being confined to provide only for the betterment of no parents, no problem. See if we don't have parents to abuse and neglect children, there would be no abuse and neglect. The abuse rates will drop, we wouldn't lose 35 kids or more a week due to the harmful state of having a child live in a bad home.

As to my own part, I have studied the proposals of other projectors, and concluded that they are not nearly as efficient as they claim to be. Having children speak up usually doesn't really work especially if they're being abused or threatened at home being told if they tell anyone they will get an even worse punishment, teaching them to speak up isn't always effective. Sometimes the kid will tell their best friend and beg them not to tell anyone. CPS (child protective services) could always be called but that doesn't always mean the child will be taken away to a safe home. Sometimes when kids are removed from their homes they get the back luck of being stuck in another bad home. Most of the time children are too afraid to say something because they are afraid of getting in trouble or they just simply don't know how to get help. We need to make it easier and more effective on how to teach children on how to speak up and get help.

I will now present my own idea, which I hope will not be subject to any disagreement.

I humbly offer it to public consideration that humankind as a cohesive and cooperative unit, should give the children to the government and the nannies take care of them until they are old enough to take care of themselves. Even though they aren't with their parents anymore, people should use their words wisely because they have a lot of power.

In this scenario, my solution will work by having government nannies take care of the children under special protection so they are not harmed. Tired of seeing the pain in children's eyes? Well now you longer longer have to will government nannies. They will be sent to private schools when old enough and taught how to live on their own until they graduate and can do so.

Of course, we could always just get rid of parents.. No parents no problem right? Parents will be sent away after they have a kid to an island where other parents are at and they will learn to live without their children. Their kids will join them one day when they have kids but they will never know their parents.

These drastic and sudden changes might be hard for most parents to deal with giving their child away right after they give birth to them. But there wouldn't be enough nannies. It would be extremely beneficial because no more child abuse.

I can think of no valid objection that may be introduced to antagonize this proposal. One Possible concrete objection to my modest proposal would be people probably wouldn't want to be nannies or give their children to a nanny. Also, that they would basically just disappear out of the child's life without knowing them and never getting to see them. It might be hard for the parents to adjust to and they might not want to give their child up after the birth and put up a fight. Also, not all families are abusive so it wouldn't really be fair to a kindhearted respectable family. My solution will override this because child abuse numbers will go down to the point where it's over.

Again, no one should dare to suggest these notions to me until they have a small spark of hope that these actions may be implemented.

It is not that i do not respect the input of others on the subject of solutions to this topic, but it's simply that i've researched this topic for weeks and worked to create this feasible solution. I feel there is more planning to go in effect with this solution but I'm willing to put in the time to keep researching this issue. This issue is a very important matter I feel isn't looked into enough and it should be. No child should have to be put through this pain because they have a bad Family. I feel like most abuse is passed down because when the parent was a child they had to go through it and they weren't taught any different growing up. We need to make children more aware about the fact that it's not okay and it can be prevented if found the right solution. This is the only solution that will solve the conflict because the nannies won't hurt/ harm the children.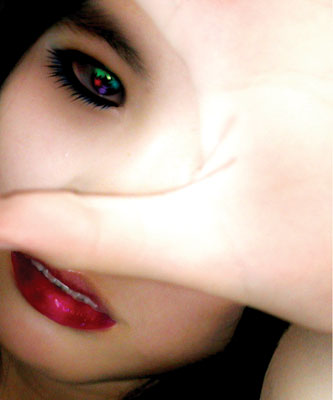 © Victoria W., Arcadia, CA