What Do Your Pets Really Think?
September 5, 2016
                       What do your pets really think?
Mmm… I really want food right now. Here is the thing though, I am way too sluggish to get out of my impeccably comfortable position. Oh my cats! There is a bird right outside of my bed, I need to catch it. I am running, running, SPLAT! I forgot that there was a window right there. Man, why do they keep it so clean, I wonder, do they want me to hurt myself? Binggggg! Oh, its 5:00 which means I have to go beg for dinner until my owners actually know what I am asking them. Yay, yay, yay, they are scooping out my tasty brown pebbles of deliciousness! Nooo, they are taking way too long, maybe I will just meow until they get too annoyed and dump the whole box into my bowl. "GO AWAY LUCY!" Lucy is my sister but she always comes in when my owner is serving food, like NO, I want all the food. After I am done eating, I usually just sleep and then when I am really in the mood, I go hunt. Hunting is my favorite sport, the other options are just boring. All Lucy does is play with this fake bird that our owners expect us to think it is real. You know what my favorite food in the world is, CATNIP! The next day, this little skinny animal is brought into my house. Apparently this is a, wait for it… A DOG, and his name is Teddy! I went up to him and said, "Why are you so skinny? Around here we like to be a little chunky." He ran away, I mean why would he want to exercise? The next day Lucy and I hid all of his toys so he would be lonely. We realized that he was sad without them, and oddly, we felt bad for him. We spent the rest of the day wondering if we did the right thing. The next morning, we apologized for taking away his toys and he forgave us. At first I didn't think we would get along, but now we are all friends!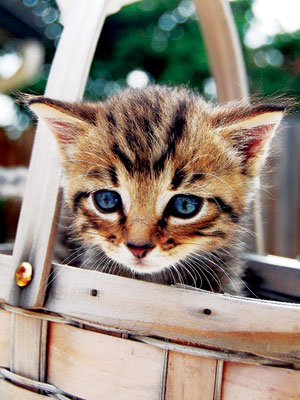 © Alyssa B., Boca Raton, FL