The Pebble and the Rock - Flash Fiction
September 2, 2016
A pebble and a rock sat together on a riverbed. Then, Pebble sees a fabulous patch of dirt a few feet away, and decides to sit there instead. He begins to roll, (which takes him a while because he is a pebble). Then, Rock stops him, just as he was about to reach the Spot. Rock was upset, because he wanted the Spot too. "Hey, this is my spot!" Rock shouted a little too loudly.
     "B-but i-i-it was my sp-sp-spot too!" Pebble stuttered. Because of his speech problem, and the fact that he was on the edge of tears, Pebble was a hard to understand.
     "What?" said Rock, unable to understand Pebble.
     "I-I  SAID  I-IT  W-W-WAS  MY  SPOT!" shrieked Pebble, as his sadness turned to anger. They continued to bicker over the Spot for several minutes, until a duck waddled by and kicked them both out of the way.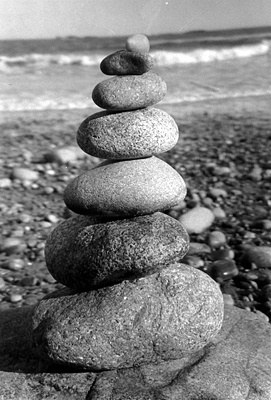 © Vanessa R., Marblehead, MA