Nightmares
February 26, 2009
"Maggie?" it was Linnea, she sounded upset.
I rushed in the direction of her voice. "Maggie!" she screamed.
I hurried my footsteps. I found her next to the sink, our father's fingers entangled in her hair, her face wet. My expression turned horror-struck. A smile curled across his face. "She wouldn't listen. Children who don't respect their elders should be punished.
"Dad, let her go." my voice was shaky.
He edged Linnea closer to the sink, threatening to dunk her head in again. Linnea winced as his grip tightened. I took a step closer. "Dad," I said reproachful.
"Maggie," he warned.
That did it. I lunged. Wrong move. He plunged Linnea's head as far as it would go in the full sink. Then, turning around, he side-slapped my cheek. My lips tasted of blood. Linnea came up, gasping for air. "Maggie!"
In instinctively searched around me, looking for a threat. But when my eyes scanned across my mother, I knew my name had come from her lips. "Maggie! Linnea! What has he done to you?" she asked, appalled.
Our father appeared again, this time a breath away from me. I froze. My mother spoke with anger. "Drew!"
"Alyssa," he mocked her.
"We are leaving! I'm tired of you hurting my children. Girls, go upstairs and pack," she said, not taking her eyes off our father. "Don't you dare touch them." she told him as we passed.
We stole around him while he was still at a mild temper. I never saw my mothers gaze break or quiver. She meant her words and if they were broken, all hell would break loose.

The room that I once thought my haven now threatened to expose me to my father. It felt like he would come storming up here with something his sick mind thought as punishment. "Things will change. Mom is taking us away from him and we'll start all over. Like nothing ever happened." I told myself to memorize those exact words and I still do to this day. Mom wouldn't let anything hurt us, I just knew it.

We both stumbled downt the stairs and met our mother at the foot. Our father wasn't present, I guess he thought our mother would never leave him. He was wrong. "Let's go! Hurry up, now!" my mother's voice was demanding, but comforting at the same time.
Linnea and I hitched up our suitcases and tore down the path to the car. We yanked open the doors and climbed in, locking the car behind us. We were scared our father would try to come after us.
All of a sudden, Linnea started crying. "Linnea, what's the matter? You are fine, he can't hurt you." our mother tried to comfort her.
"No, you two are going to get a divorce and I'll never see Daddy again!" she sobbed. It's funny with Linnea. She always seems to find a redeeming quality in people who have hurt her. Like our father. He just tried to drown her, and now she's crying for him.

All the while during our drive to Nowhere, Linnea was curled in a ball sleeping off her tantrum. She had done a great deal of crying. Soon though, Mom made it my job to wake Linnea so we could check in a hotel. that was pleasurable. "Linnea, come on, honey." I cooed softly. We were in a state I did not recognize. Our hotel room was cheap, but it withheld two beds, a television, and a toilet. I figured that was all we needed. At least it was something. We could be sitting on the highway, sleeping in our car. Mom checked us in for an extended stay, that way, if we absolutely had to, we could stay longer. That was the worst time of my life, I had to admit.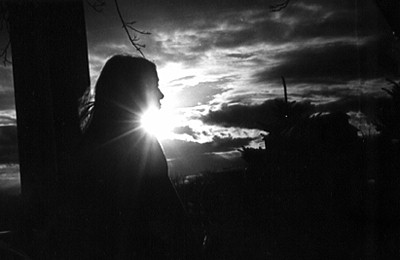 © Elizabeth G., Marblehead, MA