Charlie, the Metal Bin
January 14, 2009
It's a quiet summer day around noontime in a young girls bedroom, when Charlie, the metal bin under the bed, wakes up from his nap with the photo albums. Sitting up and stretching he scoots out from under the bed and finds the spot usually coveted by the orange cat empty. He stretches again, the hot haze making it hard to shirk off the excess sleep from his midday nap. Charlie can't get enough of days like this; it is what he lives for. Sweet smelling, sunny afternoons with plenty of time to do nothing at all but exist. Suddenly a sweet voice pierces the quiet
Marlene: Good afternoon Charlie, anything you'd like to hear today?
Charlie looks up to find, much to his enjoyment, the girl has left Marlene on with iTunes open. Right then a smooth reggae beat speckled with people voices comes bouncing out of her expensive speakers.
Charlie: Whatever this is suits me fine. So good to see you awake, Marlene. It's been far to long.
Marlene: I know it. Jessica has fallen into the bad habit of late night Internet surfing. I keep trying to tell her to get some sleep with sleep pill ads, but she started blocking pop-ups. I get so discombobulated, but it's alright because once school starts again she'll have to sleep.
Marlene's screen goes black for two seconds then pictures of pretty beaches and blue oceans began to drift back and forth to the music. Charlie sits quietly for a moment, Marlene's words hanging in the stuffy air as the pictures play across Charlie's view. Taking a breath, he feels as if he is suspended in time and then he can almost feel the water… the sand… the sweet breeze through the palm trees…
Charlie: (jumping up on the bed to get a closer look at the pictures) I'd like to go to those beaches someday, Marlene

Marlene: I would too Charlie, sometimes I find a beach cam on the Internet and just watch all the people having fun, surfing, tanning, swimming. It would be nice, but those are human places. Our place is here, Charlie. You and I? We're objects of human use, not meant for beaches.
Charlie: Why though? I bet we could find a beach where no one else would ever find us, we'd be free to nap and swim and do what ever we like. I bet we could get the curtain over the closet in on it to.
Marlene just shakes her camera and sighs.
Charlie: I hate to admit it, but I knew you're right. A metal bin and a computer on a beach? You would short out and I would rust. (Charlie sighs and lays back on the bed) Besides, look out the window. How green and beautiful the street is under the glittering noon sun. Who needs a beach? We have these trees and flowers and bees to look at from here.
Marlene smiles and laughs.
Marlene: Charlie, I don't want you to give up all your dreams, but I'm glad you can appreciate what you have. It's hard to appreciate the little things sometimes. You just have to zoom in on what you have and hold it close. You never know when you'll lose what you have.
Charlie: Thanks Marlene.
Charlie sits and looks out the window at the day. Below the window the girl plays with her brother. Shrieks of joy erupt from their lips and fits of giggles come from the neighbors yard as they watch the siblings soar through a glitter wall of sprinkler water. Charlie knows he is a metal bin, he knows Marlene is a computer. He also knows he is satisfied with that and his dream of a faraway beach was just that; a dream.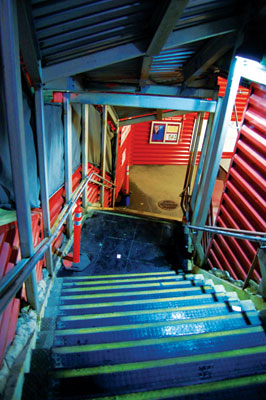 © Karen C., Holbrook, MA