You can't keep me waiting
April 1, 2015
"Will you go out with me? Yes or No? Come on, you can't keep me waiting forever!" Wrong. I already gave you my answer. It was no. And Ive said it several times already, but you pretend that you can't hear me. I feel like you're not going to stop until I say yes.
I look around for my friends, but I can't spot them anywhere. Suddenly I feel you grab my butt. I jump and slap your hand away. "Come on, you know you want to." No! I don't! Why won't you just leave me alone? I would scream, but then everyone would look, and I don't want to cause a scene. I can feel your breath on my neck as you lean closer to me. You're not drunk, I can't smell any alcohol on you.
But if you're not drunk, why are you doing this? I'm getting nervous because you look angry. "Why won't you say yes b****?" I look around quickly, and catch a girl's eye. I send her a message with my mind, hoping she'll catch it. She starts laughing, and I slump. Then she gestures towards me yelling for me to come over and hear this joke. 
Yay! I'm free from that stupid guy! I start walking away, but he grabs my arm. "I'm not letting you go until you say yes." I panic. I silently scream for someone to help me, when I hear a sharp Crack! and the guy lets go. I look up, it's the girl from before! Se grabs my arm and pulls me away. "Listen" she tells me "If a guy ever does that again, you slap him. Right in the face, and then you walk off. And if he doesn't leave you alone, you scream, cause a scene. Do anything you can to get him to leave you alone." I nod. It's good advice. The rest of the party goes smoothly. The guy's been kicked out, but I don't let my guard down. It's hard to relax after that.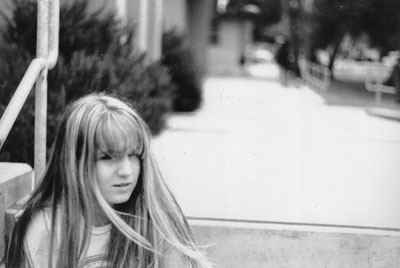 © Alyssa R., Pacific Grove, CA