On the Other Side of the Fence
January 13, 2009
Why?
Avera's Diary June 12, 1994 (Jewish Girl in Israel)


Mother says they are bad. She says they are thieves and have no right to this land. Whenever I try to speak with her, her eyes flash with an emotion I cannot place and do not like. Perhaps it is hatred.
"Do not ask such silly questions Avera," she chides me, annoyed with my stupidity. "There is no question about it. This is how it was meant to be."
Is it? I question silently. I do not understand.
Today in school we talked about it. When Mrs. Aaron announced that we would be discussing Palestinians, I was hopeful.
Finally someone would speak with me. Ever since I can remember, any question of the issue would earn me a swift scolding and no answers.
To my disappointment, this was no different.
"Yahweh gave us this land," Mrs. Aaron stated, her airy voice suddenly angry.
Why anger? I wondered. Why is it always anger?
For the next hour, Mrs. Aaron continued to lecture about the claim we have to the land. As she spoke, my seat seemed to grow more and more constraining. Holding me in place. Anger boiled up from somewhere inside me.
I did not understand!
They all say that we deserve this land. Father's anger runs deep and pure, for the Palestinians are the reason his father is dead. Mother's anger seems unwarranted, but is just as strong as Fathers. My little brother Efron asks no questions at all. He is simply eager to fight.
Why am I the only one who wants to know why? Why is this our land, and not theirs? Why can't there be peace?
The more I think of it— the more I am convinced that this cannot change.
But WHY?


Why not?
Inaya's Diary June 12, 1994 (Palestinian Girl)
Today was worse than before. Everyday when I walk past that cold fence or the wall, my throat constricts, and I have to turn away, shuffling quickly across the dry scared land. As I look down at the ground, I laugh coldly to myself. How like my heart the ground was—trampled upon and cracked.
I looked back at that fence, and I saw my old life. I saw the times we used to laugh. Then there was no fear. No death. No scares. Those times seemed so long ago.
The figures that passed me as I hurried home were hard to look at. Most of their eyes were blank. Hope and joy no longer strong enough to keep them going. The others burned with the fire of hatred.
I couldn't help but wonder why I couldn't bring myself too despise them too. I could not bring myself to blame them for all I had lost or all the pain I had experienced. Hope had not abandoned me. Rather it haunted me. It stalked me. Always it was in my dreams, hiding around the corner and tearing my heart apart each time I forced myself to admit it would not happen. Still I hoped.
Why was I different? Why couldn't I hate them too?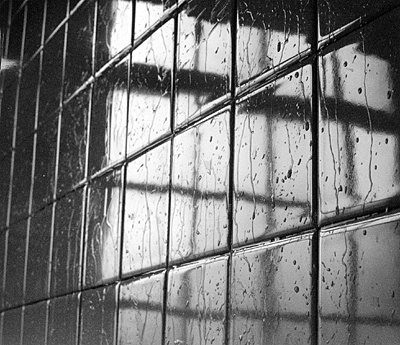 © Jared S., Pompton Plains, NJ