My Walk
MAG
February 3, 2015
My younger sister, the middle daughter of our family tribe, has once again ignored her chores without punishment. She lazes about as I wash our pots and pans for reuse, give our animals drinking water, and remove the fur from our den. Once I'm ready to leave for the day, I will deliver my messages to the priests at the Temple of Knowledge and listen to their hour-long prayers.
The journey is not long, but a harsh winter has shrouded the hillside in mist. As I open the entrance to leave, I hear a howl – quite possibly a beast in the fog. A child would have run back inside, but I must deliver my messages at all cost. I seal the entrance and start trotting down the snowy stone road to the Temple, hoping no beast comes my way.
My light shoes crush the snow. I walk in the tracks of monsters with my winter garments on tight and my inventory swung over my shoulders.
When my journey is almost at an end, I come across the monster's resting place. Nearby, I spot another traveler walking toward the younger children's section of the Temple. We are fine, for it sleeps – but if we crept up on it, attempting to collect the treasure in its belly, it would awaken, eat us, and spit us out in another place. Most family tribes here have monsters as pets, but going up to a monster owned by another is not a good idea.
As I approach the entrance of the Temple, I hear a roar. A beast is coming toward me. I run down the stone path, but it follows me, its yellow eyes burning through the fog.
I run to the front door, looking for my key to enter. The beast comes closer, slowing its approach. To my relief, it is just here to give me my dear friend and leave. I greet her as she enters the Temple, then notice something else in the fog.
My companion arrives on his green and silver horse. I happily embrace him in greeting.
"Hey, did you finish the history homework?"
"Oh, yeah. Just have to turn it in today, or it doesn't count, right?"
The girl laughs and follows a boy her age into the school building. Many cars litter the parking lot, and she takes out her keycard to get through the school's security system.
"Did you have any trouble on your way to school?" the boy asks, seeing that the girl is breathing heavily.
"No, just entertaining myself on my long walk here."
The boy just laughs and pushes the door open for her. "You live a block away."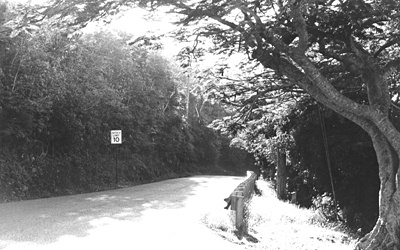 © Chuck K., Marblehead, MA