Summer Sadness
October 19, 2014
I run down the sandy hill into the incoming tide. I fling my toes into the mushy sand and flick grains in an arch behind me.
To my left, a shrieking toddler tumbles into the waves with his father splashing behind him. Dad is overweight and beaming. They both love the ocean.
I am entranced watching myself climb on his shoulders. Beyond him, two sisters steal my gaze. They are young women, chatting and smiling. They occasionally burst in exaggerated exaltations, as if they know the fleeting nature of the moment. A scrawny, preteen boy takes delight in throwing them back into the water as they try to ascend the hill. They feign annoyance, but are too absorbed in novelty of their brother's strength to care.  He is growing into a man.
The moment is shattered by a commotion in front of me. A freckled boy emerges, coughing and spluttering from the water. His father cradles him and instructs, "Never turn your back on the ocean. It is stronger than you."
I look back. Mom's arms are a splattering of Jackson Pollock sun spots. Her eyes are fixed on the novel bent in her hands.
I face the sun and let the rays clear my vision. I close my eyes and a white light emanating purple and blue forms in the wake of brightness. I am left void and lonely. When I open my eyes, the beach is empty.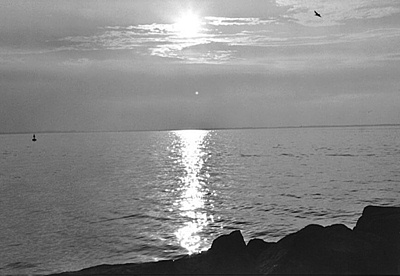 © Amanda L., Cumberland, MD