Abyss
MAG
Suburbia is an abyss. A chasm you fall into after years of rebellion against your suburban parents. But there's a science to the madness, a formula that spreads until generation after generation succumbs to the comfortable development houses. There's a science, all right.

Suburban women have a type of instinct. Once they bungee jump in with husband and child, they mentally set up for what is to come. They adjust to a schedule of sweeping the hardwood floors and purchasing healthy cookbooks. They choose paint samples for the nursery, hire help, go through the preschools, begin a regime to make their tiles shine, put all their youthfulness to the back of their mind and save it for a midlife crisis. The women prepare for eternity amid little routines that save them from thinking how they've wasted their dreams of ballet and fashion design, of seeing Paris not as a bumbling tourist but as a beautiful, ageless resident with a summer house in Tuscany.

The children come next. In their adoring phase they don't tend to matter, just fevers and Crayola tracings, but in their teens, they spring with new life. Boys apply eyeliner, girls apply eyeliner, go preppy, go dorky, go long, go pimply; "Go mosh!" exclaim t-shirts. The mothers complain in book clubs that Timmy or Sandra has done this to rebel, and was caught doing this to James, the new boy. (Sandra gets a talk, Timmy, well, he gets several fishing, hunting and camping excursions with his old man to try to make him more ... masculine.)

There go the kids off to high school, making films and spinning in circles under club lights unaware of their future. Maybe they will go off to Tuscany, but only a few. Maybe it's better for the Italians not to have thousands of kids coming into their country looking for romance and butchering their language. Is that why boys grow up to talk about lawns during barbeques? Is that why my boyfriend may someday golf on Sundays at the country club?

That's what I tell my boyfriend when we're in the cabin by the creek, doing nothing but breathing, not kissing or revealing feelings. Burnouts have no reason to hide hatred for suburbia.

"Is that all?" he asks. I really like him. Not his personality, but him physically, the way he cocks his hat to the side, his ears which seem abnormally curly, his way of taking up air and spilling words out in a comfortable monotonous way, and his hair with blue highlights. He's like a magazine to me; his life is just article after article, with different poses and styles running across pages. I guess that's it.

"What more do you want?" I ask. He probably will end up golfing on Sundays, and he's reached his peak now.

He responds with a lame joke, so lame. He really isn't a good person, but I like to look at him. That's all I can hope for until I get to sweeping floors, isn't it?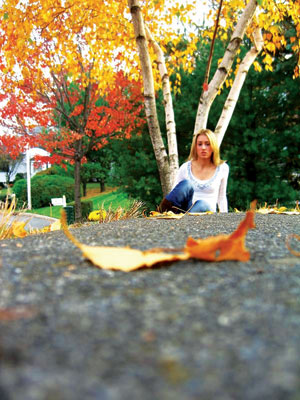 © Stephanie F., Garnerville, NY