Babysitting
October 21, 2008
We walked up and did not comprehend what we were getting into. The house was neat enough. The exterior was rough brick with enormous windows. I glanced toward my sister and then back to the house. I pressed the doorbell. "Ding-dong." We stood there for a few moments; then, the footsteps came. The door swung open to reveal a mom with two little kids standing next to her. We walked in and she carefully closed the door behind her. She showed us where everything was, introduced the children as Madison and Aaron, and explained how to handle her three year old monstrous son Aaron. He weighed more than his 5 year old sister and had golden yellow hair and cherubic chubby cheeks. Before leaving, Mrs. Smith pointed out where the food was. I thought about the money I would collect in six hours. After all, I love kids and the children were cute. I figured it would be fun.

Mrs. Smith left, slamming the door behind her so hard that the pictures on the wall clanged in unison. It seemed as if she were running for her life.


Four hours later, I walked Aaron upstairs. He was no longer wearing shorts because his were wetter than a kitchen sponge. As I opened the door, I noticed a lock on the outside, but thought nothing of it. I walked in and turned on the music. "Goodnight," I said and I walked out of his room, and down the stairs.

Ten minutes later, I returned to check on him. The pitter patter of feet and the banging of doors had me worried, but not too worried. The door to Madison's room was slightly ajar so I snuck in stealthily. The mirror was smothered with yellow-brown handprints. The putrid potty stench was overwhelming. Aaron's yellow shirt was covered with asymmetrical warm chocolate brown polka dots. The carpet looked as if a dog had tracked dark sticky mud across it. My eyes were wide with shock and I bit my tongue; the bitter blood filled my mouth. It was as if a force overtook me. Heat rose to my cheeks and anger filled my nostrils.

It was not going to be as easy as I thought.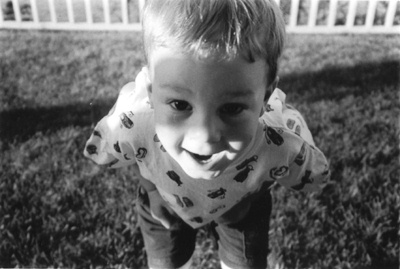 © Jessica M., Marblehead, MA