Who am I?
October 17, 2008
I am sort of here and sort of there. I am a somewhat, a maybe. I am a possibility. I'm not what I eat, but I like chocolate the best. I am seventy percent water with my own skeletal support system, like the steel frame of the Shelby GT 500 that my mom wants for her birthday.

I am oh, what a letdown. I'm an Almost, a Backup. I'm a broken wristwatch, because my cogs and gears and hands and strings are too big for the looking-glass cage I happen to be in.

I am a young lady, but I wish I wasn't. I'm a contradiction of physical thought. I'm a kinda and a sorta. I'm everywhere and nowhere, like Schrödinger's kitten, but the universe would never split on my behalf.

I am my words, not spoken, but typed down in Arial ten-point font upon the pixilated screen, not yelled but scribbled down in the blacked ink, which sometimes lacks dotted 'i's and crossed 't's. I'm one of my butterflies that I pinned to a corkboard, over the small label typed Papilio troilus (Spicebush Swallowtail in parenthesis and italics).

I could be this and I could be that, I'm faceted and fractured. I'm bad math, an incorrect problem with the right answer.

I'm sort of here and sort of there – a somewhat, a maybe.

I am a possibility.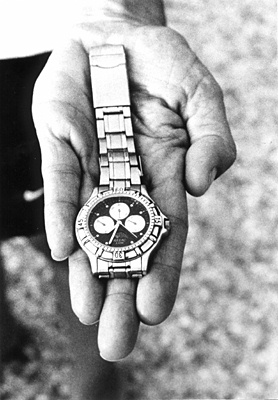 © Nicholas B., Highland Village, TX