Ghostly Encounter
October 8, 2008
No one really knows what it is like after we die. Yes, some people believe that we move on to a better place and others believe that we just become a piece of the earth. But there are those people who believe that some spirits can't move on; they are stuck with us even if we can't see them. I never really knew what I believed. I really wanted to believe that there was a better place for me, but after just night, my views were completely changed.

It was an ordinary night for the most part. I had waited until the last minute to finish my homework, as usual. I finished up my nightly chores, and went to bed. It was around 1 a.m. and my head had just hit the pillow. I had the gut feeling that I was being watched. My first instinct, of course, was to look around to see if someone was in my room. I lifted my head off of my pillow and the only thing I saw was this black shadow figure as dark as night coming towards me. I tried to scream, but no sound came out. I was scared silent.

The first thing that I felt was light headedness. All of the blood had rushed out of my face. I bet I was as white as a ghost. I was frozen, I couldn't move. I told myself to pretend to be asleep. In my mind, if I was asleep, whoever or whatever it was wouldn't hurt me. I quickly laid my head back down and squeezed my eyes shut. After I laid back down, I could feel my covers being lifted off of my body. I remember my room being very cold, despite the fact that it was a warm night.

I rolled over onto my stomach to keep warm. After a couple of minutes, nothing had happened, so I thought it was gone, but then I felt a great deal of pressure added to my back. It felt as if whatever it was, had lain on top of me. I remember barely being able to breath. After what seemed like an hour, the pressure slowly started to decrease from my back. Eventually, it was completely gone. I probably waited a good hour to an hour and a half to even move.

Finally, when I got the guts to move, I looked up and no one was there. My room was completely ghost free. That night, I stayed up all night, just waiting for the sun to come up. Since that night, nothing strange at all has happened. I am hoping that nothing else will.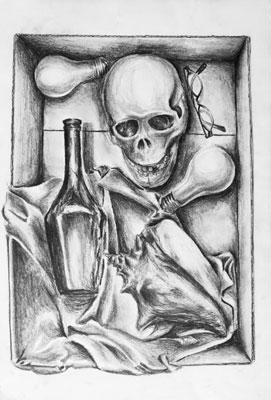 © Karen S., Norwalk, CT