The Sleeping Legend
October 3, 2008
I woke up on a brisk Saturday morning. I felt changed, as if my DNA had been reconfigured while I slept. Something had happened to me that night, but what?

Smelling breakfast, I quickly forgot about my problems. I hurried down the stairs. "Smells good, Mom," I admitted. She looked at me in confusion.

"I just started breakfast. There's no way it already smells good." I wondered what was wrong with me. Something about me really did change.

I shook my head, suddenly losing my appetite. Making a run for the bathroom, I wondered if I looked any different. My eyes changed from a pale green to a stunning blue! I loved my new eyes, so I wasn't going to complain.

My teeth needed brushing, so I started on that. My little brother walked in and scared me to death. "Oww," I excaimed. I bit my tongue, and it was bleeding.

At first, I felt a sense of disgust wash over me, but once I tasted that blood, I felt renewed. That's when I noticed my sharper teeth. There's no way regular teeth could've sliced my tongue. Something was very wrong.

I hoped it was all just a dream, and began to tie my hair up in a bun. That was right around the time I noticed the fang marks on my neck. I suspected it, but I never thought they were real. I'd been attacked by a vampire in my sleep, and now I was turing into one!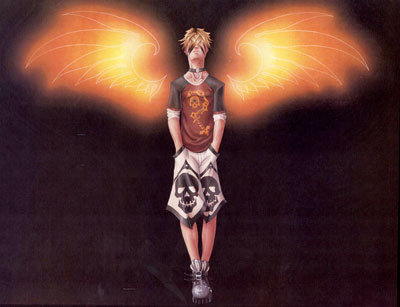 © Raul R., Monte Vista, CO