Out Loud
October 5, 2008
("He loves her," I remind myself silently in my head.)

There is no doubt she is beautiful. Her hair falls in ringlets, a blonde waterfall, down her back. Her eyes are so intensely blue you could drown in them. Her body is the kind that makes every girl around her green with envy. They think that she doesn't have to try to be beautiful.

("He loves her more than anything," I tell myself again, just to affirm the tragedy.)

By some inexplicable miracle, she says she loves him back. Him, the boy she'd never given a second glance before. Her smile is articulated perfectly, believably genuine. His is radiant. He's not the best looking guy in the world, but the smile on his lips, to me, is the single most perfect, beautiful, wonderful, amazing thing I have ever seen. Even as he drags her towards me, hand-in-hand, to show her off, the beautiful girlfriend, to me, the second place, wanna-be best friend.

("Try to smile back!" I command my mouth.)

I want him to be happy more than anything else. More than my own happiness. I want to smile back, make it real. So he won't hurt. Even after all he's unknowingly, stupidly, but still unknowingly, put me through. I couldn't stand for him to feel a millionth of the pain I feel right now.

("He doesn't know," that I love him, that is. I shouldn't hope.)

I lost my chance. I should have told him, when we could still have been happy together, before he found her. My fault, my own stupid fault. Now I can't tell him without hurting him. Hurting him is not an option. I can't wish that he knew how I feel now, because it would hurt him to know he has to choose between us. Me and her. And I can't wish he knew how I feel because I know who he would choose.

("She asked him out," I really shouldn't hope.)

I wish I had the nerve to do that. Friday night. They made a date to meet at the movies. And I will be alone. Because she had the nerve, and I didn't. I will stay in my room and do something consuming. Something that will take all of me. So I can't imagine what he will be doing. So I don't wonder how it would feel if it were my lips he gently pressed to his, instead of hers.

("She didn't come," and the realization hits.)

I can't feel happy about this. I should feel happy, now that I could tell him. Tell him that I love him, and at least have him know, so the pain of rejection will be over excruciating but quick, instead of dragging out. But as he cries, I know, I can't be happy about this. It hurt him, so I cannot embrace it, accept it.

I find my voice. Not more thoughts in my head. Out loud now. "It's okay, she probably has a good reason…" I tried to fix his broken angel's face.

"She called me and laughed. Said it was a joke! That's a good reason?" he sobbed, "I'll never be good enough!"

(Good enough? He was too good! Maybe not all out loud just yet.)
How could I tell him right now, when he needs a friend? "She's a jerk; not good enough for you. Don't cry over her!" I beg him.
(Please. It kills me to see you so sad.)
"You think this is about her?" he says, "You honestly believe I'd cry like this over her?"
(This can't be in italics anymore.)
"Yes."
"How can you not know?" he asks. Not know what? It's not… could he…?
"How can you not know?" I ask the same thing.
And somehow we both know.
Three words that aren't just thought, aren't in italics anymore.
Both of us thinking, unknowingly hiding how we feel in italics, inside of us. But tonight we both finally let the words stand up straight and tall by themselves.
Out loud.
I love you.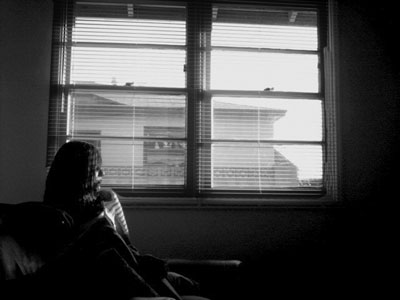 © Roxana R., Tustin, CA