9/11
October 1, 2008
"Flight eleven is now prepared for boarding," the announcer declared over the intercom.

"That's me, bye John," my dad O'Neil commented.

"Bye dad. I love you! I'll see you in a week," I exclaimed.

That day, I exited the airport not knowing that a terrible event was about to happen to my dad, just an hour from when I bid him a good bye.

While watching the news that morning, I saw that there had been a terrorist attack on the United States.

"American Airlines flight eleven was hijacked and then crashed into the North tower of the World Trade Center. Just minutes from when the attack happened, police and fire fighters around the area are predicting thousands of deaths. All passengers of flight eleven are dead," the newscaster reported.

"Wow that's ama…"

And then it struck me. It was my dad's plane tht had been hijacked. I went outside and saw a spiraling smoke cloud over the destroyed towers.

"No!" I screamed with anguish.

"What?" my mom asked.

"Dad is dead mom. Dad is dead!" I screamed while starting to cry.

That instant my mom sprinted outside to look at the World Trade Center and dropped to her knees. I thought she was going to cry her eye balls out. For the remainder of the day, my mom and I sat like frozen statues watching the news tears pouring down our faces.

After a few days of extreme sadness and depression, my mom and I realized that my dad wouldn't want us to live our lives mourning and thinking of what happened in the past. He would want us to live our lives in the now, and be happy while remembering what a great dad he really was.

That day made me realize how special the gift of life is and that we should not take it for granted. We should live every minute of our life like it is our last minute here on this beautiful earth.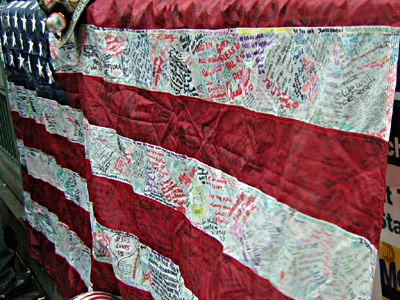 © Brittan S., Chino, CA