Still Night
June 20, 2013
Driven forth by an importunate need she could not fully understand, the eerie figure at the edge of the lake had since become still as the heavy stone upon which she sat, as though the inner turbulence of her troubled mind had been suppressed by the overwhelming placidity of the great lake before her. She had come to seek the succor of the shadowed water and the indefeasible sanctity of pure moonlight on its turbid surface. There are few times in a short life when one can find solace in revelation to an empty shore and she had taken it upon herself to seize this night, so endued with opportunity, to expiate her sinful thoughts and start anew. She, young and new to the perverse and convoluted ways of the world, hoped that she could cast off her sins and fling them, as little pebbles taken from the lakeshore, into the water, to sink beneath the surface and never be mentioned again. But she was unable to find her redemption, for the deep darkness of this single night was so consuming that it seemed nothing could or should be right again, and therein lay the danger of a mid-night trip to the shore of the lake – the silent way the darkness could drag a soul down to its torpid depths and add it to the ever-growing and ever-silent collection of the ashen denizens of the lake whose identities had been stripped away long before the figure had even seen the wretched place.
Unprepared, she had come to the water at the time of day when the heavy drape of night is drawn and honesty is all that can be offered, when the venerable, blue hills of the distance have grown callous and no longer show sympathy for the frail and transient flame of human existence. She had found the time when the whole world seems but a vision voluntarily indulged in for a passing hour, meant to palliate but unable to quell the harsh truths that must come about when eventide arrives, for even on the stage of a human life, at night the curtain must close, the audience go home, and the actors off their masks to reveal the hidden entities beneath.
The lake itself was deathly still and the moonlight so pure a shaft of white that it seemed the clouded and heavy water beneath would have to part, unable to accept something so angelic, or else the light would elude the water and splinter itself into a pale halo around the edges of the lake. And yet, as gracious as the pure radiance of the heavenly body was to shine its face upon the somber inhabitants of the lake as they tossed and turned beneath the still water, it could not light a darkness so deep and consuming that it seemed to reflect the girl's own soul and the most secret and sinful faults of the human mind.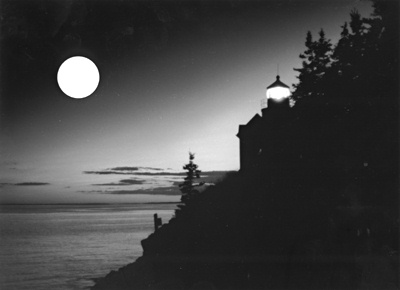 © Steve S., Marblehead, MA