Fishbowl Sun
May 20, 2013
It is fooling me miserably, the sunlight catching on the leaves of the maples. They are mirrors of the glowing; reflections and outlines of cold warmth. 

The streets are littered in what-once-was. There used to be illuminations of lime little flowers scattered daintily in the road. People would be blinded by their simple elegance, would watch from their windows the twisting sparkles fluttering down from the branches. Dust from the tires of neighborhood cars have swept away the green in light chocolate flurries and they lie to the side in strict rows and columns. Careless children on bicycles have run over them too frequently and they are now just imitations of what they once were; contours of true beauty and remembrances of the past.

My pink flowered dress does not match this atmosphere. The little red shoes I put on this morning look silly in contrast to the wind beside me and my pale blouse is nothing against the harsh tongue of the sky. The only garment that blends into the indistinguishable shade of this afternoon is the black button down I pulled on earlier, a mere afterthought from my closet. 

The cold seems to have intensified the pain in my shin. It is taut and I walk toe-heel to avoid the worst of it. I must look utterly ridiculous in this dress and blouse and awkward gait. The weather is not suiting me very well today.

The neighbors down the street have a fake garden. It is covered in pesticides and all the trees are statues of growth. I pity the poor plants; it is not their fault the other flowers mock their perfectly pungent petals or oddly cylinder stems. Even the cherry blossoms fail at beauty. Too many reddish pink buds overwhelm the branches and in all its pride it is still a sad overlooked abundance of gauche ample tamarisk pink.

The ground before me holds promise. It is drowning in yellow light, the kind of light that arrives in early evening. I step forward eagerly, desperately in need of some heat in this exterior of ice. All I feel as I step into the square of concrete covered in sunlight is more cold. The warmth is false, facile; the object the mirror constantly portrays after the client has left the room. The only thing I despise more than this frigidity are the phony impersonations of sun rays.

This is not spring; this is a calendar gone wrong, a year miscounted, a season's alarm clock gone off too late. 

Even the sun is underwater, chilled bubbles of summer bouncing off our skin. Her breath is blue, a death before departure, the tendrils worn and a few days old. When the sun swims up to the surface and finally takes her place in the sky we will applaud. We will stamp our feet and flail our arms and laugh our laughs. Until then, we will wait.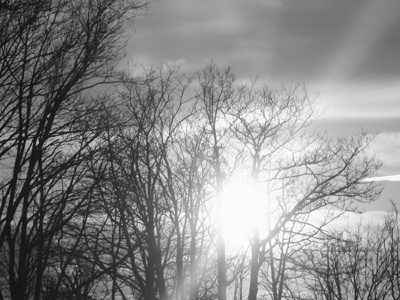 © Emma C., Gardner, MA