Cool Drinks on the Patio
September 22, 2008
We used to talk for hours, every night. She used to laugh, opening her lipsticked mouth wide and showing all of her inanely white teeth. She would grab my face and lean in and press just the smallest of kisses against my lips and then pull back, laughing again. She always laughed. It was the one constant in her.

That was in the beginning, when we were first married. We were in our young twenties and life didn't seem so short or so impossible. On the contrary, it seemed never-ending and quite doable. We were having the time of our lives, every day and night.

Then we hit our thirties and I swear I was still as madly in love with her as I was the first time I saw her, maybe even more so. I knew everything there was to know, I thought. I knew all of her perfections. I knew all of her faults. I knew all of her little quirks and idiosyncrasies. She always had to have this little dish cloth hanging on the oven door, folded in half lengthwise, then widthwise, and absolutely perfect, all sides evenly matched up. She had to have her toothbrush in the small, pale green jar directly in the middle of the right side and standing straight up. She had to always watch her CSI tv show every night at six and then she always had to retell it to me, every gruesome detail. I wasn't allowed to watch it with her, though. Because "what would be the point of telling you about it, then?"

I was in love. Completely, heartbreakingly, fantastically in love. Through our forties and our fifties I remained that way, and so did she. We didn't have to spend every waking moment together. We each still managed to retain our separate lives and we were happy with what time we got together, which – even with our separate lives – was more time than most couples got. Occasionally she would bring the girls over and they'd sit on the couch and watch tv and chatter and gossip and paint each other's nails like teenagers. Sometimes I would bring the guys over and we'd sit around the table, drinking a beer or two, maybe playing cards or just gossiping and being raunchy old men.

We were in our sixties, still feeling young – and hopelessly in love. She told me to come sit with her on the patio out back. We sat at the green coffee table, each holding mugs of the raspberry iced tea she had made. One of her veiny, white hands grabbed mine and held on for dear life. I looked at her curiously and then my eyes widened. She looked sick, deathly ill. How had I not noticed it before?

"What's wrong?" I asked her, my heart beating.

She told me she was sick. With what? The doctors didn't know. But whatever it was, it was eating away at her and they guessed she had only a few weeks left, if that. I told her I was sure she could be fixed, there had to be a cure. She said no, sweetie, no. It's fine. Everyone dies. But not her. Not her. Not her.

For the next couple of weeks I stayed with her, as much as I could. She still had her friends over. She hadn't told them anything, but I could see in their eyes that they knew. Behind the happy veneer they put off was something trying vainly to claw its way out. Sadness, perhaps. And I could tell they each wanted to cry whenever they looked at her.

The day she left, I was sitting next to her bed in the hospital, gripping her hand tightly with both of mine, whispering nonsense and declarations of love. We reminisced about the beginning. She laughed, that wonderful laugh, and asked if I remembered "that one time we danced". Of course I did. It was the day before we got married and we were in her living room and this fast, upbeat rock song came on. She asked if I'd like to dance. I said "How can you dance to this?" She said, "The same as any other song." We started out slow-dancing, and then she taught me to tango – to a rock song. The memory was silly, but good. I loved every minute of it. I loved every minute of every memory that had her in it.

We were still talking, chattering incessantly, when she looked at me, reached up to touch my cheek, and then closed her eyes. She didn't open them again. I bent down and kissed her cheek. The tears hadn't come yet, but they would. "I love you," I whispered.

The next day I got a tattoo. Can you imagine? A sixty-some year old man getting a tattoo? But she would have been proud. It was just the sort of strange, exciting, nonsensical thing she did every day.

The tattoo was of her, of course. It was of her, laughing.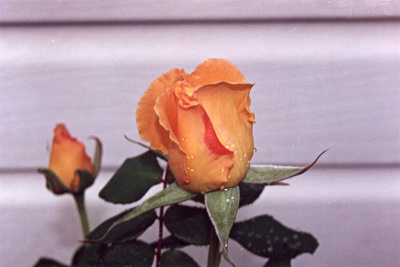 © Jamie U., West Hempstead, NY