The Meaning of Life
May 25, 2013
I feel so empty. I don't see the point.
There is no point, is there...?
No meaning.
Then why is everyone searching for it?

How does everyone seem so happy?
There is an empty glass bottle inside me, shattered in jagged pieces and bits, all the sharp edges hurtful and menacing.
Those broken pieces fall, fall down and down, for a hundred thousand years, fall until they reach the very bottom, where they land with the most insignificant tinkle.
Insignificant.
Yes, that is how I feel.
The wind whistles through my lonely glass bottle, singing it's own song of blind unhappiness. There's a sort of gravity pulling me down, twisting my soul further and further, sucking me in with desperate claws and leaving me, oh so hollow!
I can't just be me. I don't want to be me.
The grass is always greener on the other side.

I've always loved acting. Or books.
Stories that let me be someone else, that let me befriend people I liked, that let me talk to them with ease and comfort.
It was all in my head, of course.
Now, I've grown up. I cannot follow time in it's intricate nooks and crannies; when time plays hide and seek, I cannot find it.
There is no time to imagine any longer.

I fall in my bed and feel all my tight muscles spread and relax. My whole body utters one long groaning sigh, expelling a long day of encumbrances.
Because that's all I do all day: things I don't care about, things I don't even enjoy.
I let complete apathy invade my mind and my fingers deftly take care of the work for me.

At night, when I turn off the light, and all there is is a heavy blanket of silence and darkness; I hear the waves.
Because, along with the whistling wind; there are waves tossing my empty bottle.
A cold wave of pointlessness engulfs me, swirling into a whirlpool, trapping the bottle.

What's the meaning of life?
I laugh.
Meanly, thinly. Pityingly.
Trick question, child.
There is no meaning.
That's the meaning.
That is the meaning of life.

I don't see why I'm here.
I never asked to be here.
What am I in the grand scheme of things?
The universe is infinite, vast and knowing, and so sure of itself and all the strings it's pulling...
Forget destiny, compare me to the finite, to this planet; even compared to this city.

I am Nothing.
Nothing, that's what.
Nothing.
Nothing, nothing and nothing.

Smaller than the smallest and even smaller than that.
Just another empty bottle whirling in the sea, along with many, many others yet somehow on my own; singing the sad song of broken glass and wind.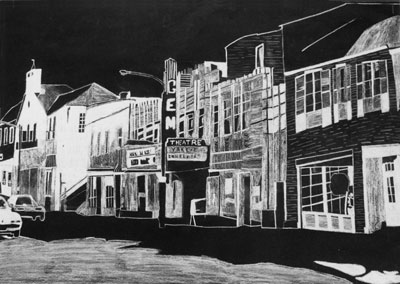 © Chelsea P., Kannapolis, NC