A Day at the Beach
September 17, 2008
The sun shone bright
In the clear blue sky.
But nothing could shine so radiant
As our beaming smiles.
We were together then,
All three of us.
Mom would lay down
On her coral colored towel,
Being browned by the rays
And reading a story.
Sometimes she would read to me,
If I asked nicely.
Dad would lay down next to her,
His towel the color of the sea.
Or he would run down the sand
And splash into the ocean
Like a giant whale!
Then he would chase after me
And give me a great big wet hug!
Mom would laugh and I would giggle
until I could no longer stand!
Then I would return to collecting seashells
That decorated the soft tan sand,
Pinks and whites,
All of different shades.
I put the most beautiful ones
In a glass jar.
Mom said it was the perfect way to save them
Because I can see each one
Through the clear container.
Each summer we visited the beach
I added to my findings
My jar was almost full the last time we went
Dad promised me
I would complete my collection next summer
When we took our family trip
To the beach
And my jar would be filled to the brim
With gorgeous reminders
Of those fun days we spent
Together.
But he was wrong,
I waited and wished to go back.
Summer ended and the sun dimmed
Along with the smiles that used to light up
Mom and Dad's faces.
The weather grew windy and stormy
As fall blew in
Arguments thundered between my parents
Once or twice a day
I pretended not to notice
I focused on the leaves
That lined the tree branches
In our backyard
Their colors changed
To browns and reds
Then one by one
They fell to the ground
Until the trees were all
Bear and lonely looking
It reminded me of my mother,
With Dad she was so happy
But without him she looked out of place,
Lost and confused.
The swirling winds froze cold
And stung my nose to make it red,
As winter took fall.
A powerful shield of white
Covered the piles of leaves
And left a blanket of thick
Wet snow on the ground.
Mom and Dad were as cold as
The icecicles hanging off the house.
They stopped fighting
But now it was worse,
They no longer spoke at all.
I never saw dad
He was always gone
And Mom would always sit in her room
And cry as she read her stories.
I asked nicely for her to read to me,
But the answer was always a
Sharp, cold No.
The snow began to melt away,
Leaving deep puddles of mud
All around the house.
The frozen sleet, which fell every night
Turned to soft rain.
The noise of the spring showers
Put me to sleep every night.
The calming beats like music
Created a natural lullaby
That made me feel better.
It washed away the
Anger and sadness in my parents too.
The sun rose up in the sky
Brightening the days and
Causing the trees to sprout
Little green buds
And pink flowers all around.
Dad came home more often and
All three us ate dinner together
Once again.
I was happy that spring led to summer
And summer led us
To the beach.
My hopes grew and grew
As the temperature turned red hot!
The scorching sun burned my skin red
And Mom and Dad began to fight again.
This time worse than before.
Every time they saw eacgh other
Yells and screams fille up the room.
I would run to my closet
And lock my door
To drain out the noise
But it never worked.
Mom must have been outside
In the dangerous sun like me because
Her cheek was as red and swollen
As my sunburns.
After that Dad left,
I do not know where he went.
Mom threw his clothes and
Even his sea blue towel outside
In the heat.
The next morning all his belongings
Were gone
And the house seemed empty and quiet.
The summer heat blazed on
As I wished hard for
Dad to come home.
He promised me
I would fill my jar of seashells.
Each day he was gone
My anger blistered
Like the weather outside.
I was so mad at Dad
For lying to me.
I would scream at Mom and run away.
I did not want to talk to her either.
It was her fault.
She drove Dad away from me.
The raging temperature seemed to reach
A hotter hot
Then I had ever known
And my glass jar still set,
Half full on my dresser.
I cried each night
Mom would come and comfort me.
She said it was alright
No one was to be blamed
Her and Daddy just grew apart.
Their love changed like the seasons.
Their hearts broke
Like the waves
Hitting the shore at the beach.
Mom's tears misted me
Like the cool salty
Spray of the ocean.
My heart crashed
Into the shore
Like the dying curls
Of the water.
Our family seemed as dead and dry
As the sand Mom laid on
And Dad ran on
And I found each
Beautiful shell in.
I thought I hated
The beach now.
But the truth is,
I still loved it as much as ever
Unlike our family,
It would always be there
Waiting for me to return
And finish my collection.
Mom asked me,
What if it was finished?
And I believe she is right
It is finished.
It is a reminder
Of Mom and Dad and I
At the beach.
Each seashell a memory
Of all the amazing moments
We spent together.
A memory of
Mom's coral colored towel
Another of Dad's big wet hug,
And one of me
Collecting these memories,
Plucking them
Out of the sand.
Dad did not lie to me
I did finish my collection this summer.
He was right.
So there on my dresser it sits,
My glass jar of my family.
Even though it is over
I can always revisit
Those great times and
Remember those summers
At the beach.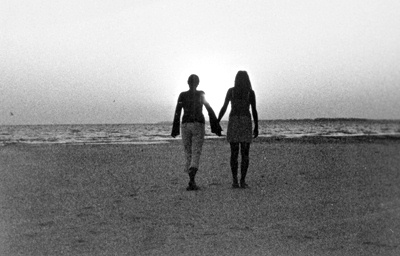 © Kim B., Marblehead, MA