The Beginning
September 11, 2008
It was happening again. I could feel my cheeks burn as blood rushed to the surface. God, I can't do this. I took a deep breath and closed my eyes. My mother's voice echoed in my head and against my desires it stayed. With one longer breath, I took a step forward. The light was blinding as I walked onto the stage. I could hear the faceless voices throughout the auditorium. I could feel the heat deepen in my cheeks as I reached the single microphone in the middle of the stage. And with that second I realized I really couldn't do this. Sorry Nes.
When I came to a minute later, someone was hovering over me.
"She's fine." I heard the deep voice say, presumably over his shoulder. The shadow turned back to face me. "Can you sit up?" it questioned. Surely with confusion written across my face, I slowly nodded. The spotlight still on me, I felt a strong hand on my arm helping me lift myself up.
Though I knew I'd hit the floor hard by the pain in my head, the only thing I could think of was 'oh God, people are watching me.'
The stupid light was hurting my eyes and was really starting to annoy me. As I thought this, the shadow yelled to someone off stage, "Could someone please cut the stupid light?"
There was an answer I didn't catch. The shadow sighed and again helped me to my feet. Out of the corner of my eye I saw people crowded around the side of the stage staring at us. No. No. No.
Once more my cheeks burned and my knees began to quake. No.
The shadow's grip tightened around me as I felt myself slipping into darkness again.
"You're not one for the spotlight are you?" it asked. I heard a grin in it's deep voice. I wasn't in the mood for jokes. I needed air.
"I need air." My voice sounded empty and flat as it rang in my ears.
As we slowly walked toward the stage exit and as we left the blinding spotlight, the shadow took on a face. A familiar face...
Adam?
Why was the new guy helping me? Having to help me?
Where the heck is Nes?
Slight annoyance filled me. This is all her fault in the first place, isn't it? She's the one who made me do this, or really try to do this. I'm going to kill Vanessa. Especially since she left me out there for someone else to help like Adam. Yeah, that chick's going down.
I made a mental note of this and turn toward my helper as we stepped backstage.
"Thank you, Adam." I second of surprise ran across his face. This confused me but he quickly moved on.
"You're welcome, Julia." A grin? Why is he grinning?
"Okay then," I said as I weakly smiled and turned away to find my victim.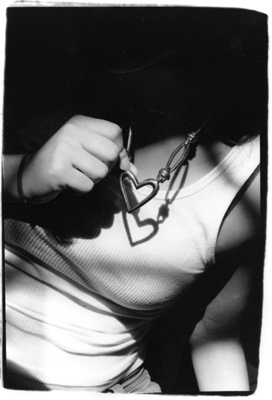 © Julia R., Bethesda, MD