Thundercloud Baby
September 6, 2008
The sky yawns, and it starts to rain.
Rain!
Rain!
Girls run inside, shoes muddy
hair pulling slipping screaming
"My hair! My hair!"

Gym class stops buses stop worlds must stop; all waiting, waiting, holding their breath, waiting for the hateful rain to go away.
I don't wait.
It doesn't hurt me. I like the way I can taste it with my fingers.
People are staring. Look at that: why won't that fuzzy-haired loser come inside?
I've never understood why rain didn't molest me like others.
Maybe I was rained out in a storm, forty days and forty nights. At the end they must have found me, thin and gray and too weak to cry.
Maybe I fell straight from the stars, cradled by wind and lullaby thunder. A thundercloud baby in a star-kissed blanket.
Maybe I'm not a person at all. Maybe, one day, when the clouds hang heavy like a morning migraine, when the rivers run thick and the drainpipes weep,then, maybe I will disappear. Once and forever gone in a stardust dream.

Will they ask, "What happened to her? What happened to the girl that didn't come inside?"
Will they say anything at all? Good riddance to the One That Didn't Want to Come?
I look back. Faces hover at the gym door; mascara-drippy eyes look at me like I'm crazy.
I probably am.
I stay outside, and wait for the rain to take me home.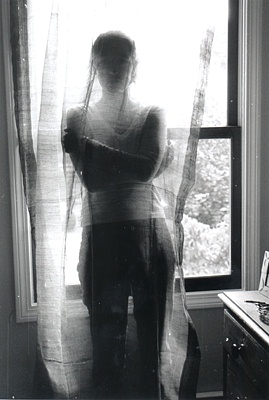 © Cerys W., Marblehead, MA