The Beggar
September 2, 2008
You avoid looking into my eyes. Afraid to care yet afraid not to care. I shiver in the icy cold while you roll up your car's window. Your car that could feed a starving person for months. In a daze I walk the busy streets but in reality I am alone. I'm an adventurer, everyday I travel and every night I have a new home. You call me worthless, a disgrace to society and to keep your conscience clean, you say things like, "They should get a job" but you don't know me. You don't know my name or how hard I try. You simply assume the worst because the worst keeps merciless guilt in a faraway place.

Opportunity was stolen from me, born with a death sentence in the form of an unforgiving disease and unwanted by those who were supposed to want me the most. All of you expected me never to succeed even though I thought I could be great but with all your help I managed to live up to your expectations. I had dreams you know and they sure weren't to be able to carry my possessions in one hand.

Every day I wander past your manicured lawns hidden behind your giant walls, spikes and electricity. All this spent money to keep people out, instead of using it to eliminate the need for them to break in. I ring your doorbells asking for work but I'm still called a beggar when all I ever do is ask. Every night is a fight for my life. While you listen to your Ipods, I listen to gunshots and if by chance you hear these shots, you tell yourself that the man you refused to give R5 out of the R5000 in your wallet is holding the gun and not having the gun held to his head. Again the worst is always assumed of me, never let guilt catch up with you.

Maybe you glanced at the smoke rising from the township and "tut, tutting," you drove along but never looked back. Yet someone's inside, a little girl and it's getting hotter. She is someone's daughter, someone's sister, my sister. She screams but no one hears because everyone just keeps driving past, it's easier to pretend that the smoke's not there. My only worth in this world has been taken away from me. So I just keep going because I'm beyond giving up. I carry on with my cruel, never-ending adventure. Sometimes I get lucky, I'm reassured with hope in the form of bread, milk and a face overflowing with kindness and understanding. Then I recognize your face as you drive past me, your head turns at the speed of light. You're desperate to keep me from knowing that you recognize me too. You feel ashamed but not ashamed enough to greet me, so the window rolls up and you pretend to fiddle with your non-existent radio. I'm a person too, please just look into my eyes.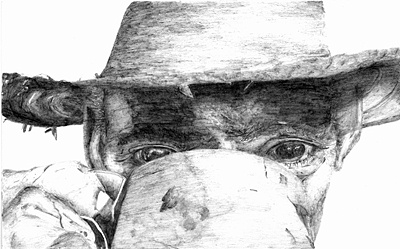 © Trisha L., Neosho, MO