Quit
August 27, 2008
She clutches her baby tight to her chest and a tear without company slips silently down her cheek, falls daintily from her lashes and rolls down the bone of her cheek. She surveys the damage, trying to act like an outsider. Like someone who doesn't know who she is and what her financial status used to be before it was burned to the ground.
And all because of a cigarette. The cigarette that slipped from her icy fingers when her baby cried. It lay forgotten on the carpet. Then it ignited and the whole house burned down.
She sighs shakily and prepares herself to walk away from the ruins. So many memories to be left behind. Her baby's favorite blankie that she couldn't sleep without. All of their clothes. Every last bit of it, singed to a crisp.
Instead of turning and walking away like she knows she should have, she has to inspect the damage that has been done. She slips on a black piece of wood, maybe what used to be a cabinet door in the kitchen, and the sudden movement causes another tear to fall. With every drop of salty, raw emotion, another record slips in silence into the abyss that is forgotten thoughts. The date of her daughter's first tooth, her first time sitting unassisted, the first time she smiled so happily. All gone.
She shuffles into her former bedroom, the place where she had spent so many nights crying over her husband's departure to fight in the war. More tears fall as she realizes that every last letter he had ever sent her was lost. All his words of love and hope were gone forever in ashes. Every record of his horribly messy handwriting…obliterated.
Her daughter cries out. She's exhausted. But her mother cannot give her blankie to her. It's gone forever.
And at that thought, as she wanders through what used to be her home, she vows that she will never smoke again. It causes her daughter such pain, pain that can't be eased, that will exist forever and always. Too many important things are risked for just one smoke.
So she would quit and never go back as long as she lived, even if doing so would guarantee her a new house to live in and a new life to build on top of charred remains.
She was done.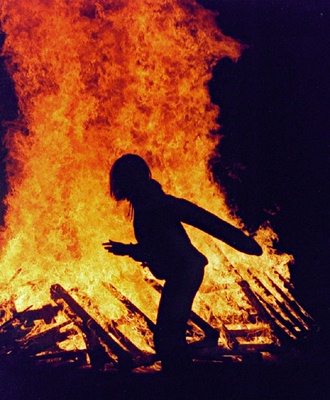 © Hali S., Robinson, IL