That Lonely Path
February 23, 2013
As a metaphor, I could see mirrors being the window to the external mask we live in. Our pain, desires, dreams, guilt, scars, and pain are hidden by a silky mask we fix into place as we step out the door to greet the world. Perhaps even when we look into the mirror, we see ourselves and despise that face for not doing, being, or having enough. We try to face that shade of ourselves and assume victory when it seems to work or turn our backs onto to it, making sure no one else saw your failure. But that stain from the wound will stay, as any other memory will. An interesting hypocrite the human mind is, isn't it? If the reminisce sings of dreams that flew between victory and love, we savour and relish it. But if the memory back stabs us bitterly and drags poisonous knives down into our wrinkles, we pout our faces and vow never to remember it again, shoving it into our closet where the other misfits live. But a memory is a memory, isn't it? Whether we want to keep it attached to our hearts or incinerated into ashes, it'll always be there, leaving a bruise or whatever you want to call it.

It hurts, the pain that is, but when you feel the fresh breeze of innocence, it all balances out. I see a lonely road running through prairie grasslands. Rustling, flowing like the oceans waves. These are waves. The lands' waves. Run your hands through the grass, weave them around the strands. The asphalt sky hangs overhead, blanketing you. I feel free. Alone. Numb. Lightening could crash at my feet. Or the sun could break through. But I'm stuck in the middle, neither, but always alone. I don't need to fit in. This might be a lie, or it could be the mask. Maybe, the sun breaks out and you see a fence. You jump over it, and a pillow materializes in your hands. You sit down, settling down to lie there. I see the blue sky. I can't describe it, the memory grows duller every time I conjure it. But the clouds come; they always do. Fluffs and fluffs fly around. But I have to wake up.

I hold onto my surfboard. Peering out at the sea. There's the pale grey skies above me, protecting me. I peer out, my hair clumping together in strands. The memory stabs again, like its threatening to tell everyone. It will come out eventually,but I'm a coward. Yes, a coward. Run, splash and embrace the sea. It doesn't feel like I'm going into a different frontier. It feels like I was born to breath underwater. It is my home. Dive up, and suck in air; we're going for a ride.

I sit down in my seat. Watch, just watch; don't do anything else. I see the emotions rise, then fall again. But I see them breathing; they feel the pain but its hidden, or already out there. They're human beings; pure and dirty.

Am I one too?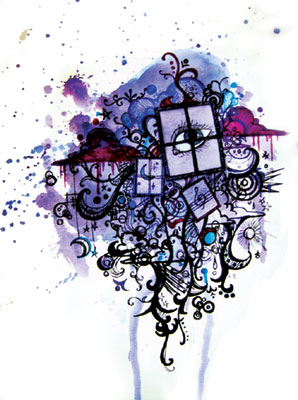 © Savannah R., Stoneville, TX