Depths of the Mind Part V
February 12, 2013
Bloodied feet walk on without hesitation as ragged clothes cling for dear life. Never ceasing, failing to give in to exhaustion and defeat, he stumbles on, eyes clouded to the world's truth. He overcomes treacherous mountains and unforgiving snowstorms, not knowing where his bare feet carry him. Rain pours from the heavens, chilling his very soul with angel tears.

The sweet scent of lavender dances around him as the rain slows to a mere mist. Rocky terrain becomes soft grass, clouds part and invite the sun's warm rays to kiss the earth. Unable to continue, he collapses onto a bed of daisies and lavender, allowing the foliage to encase him in hope and serenity.

Voices sound somewhere nearby, yet he lays still and soaks up the sun's life-giving rays. Closer and closer, the voices become two distinct sides of a conversation. The words stop abruptly, their owners a few feet away. Unknown hands pour water on the blind traveler's feet, wrapping them in bandages softer than butterfly wings. The strangers lift him to his feet, wrap a cloak around his emaciated body, and carry him away.

Music reaches his ears, a soothing tribal tune welcoming him to his salvation. People rush to his side, assisting the two strangers in carrying his weak body to the center of their village. They lay him on the soft grass, praising his arrival. A commanding voice thanks the gods for delivering unto them this lost blind soul. Day and night, voices come and go, welcoming him and sharing their wisdom. Gradually, his sight gains strength and clarity with each piece of secret knowledge learned. After thirteen days and nights, the people gather around him and grow quiet. The commanding voice speaks in a whisper, offering the only knowledge left to share. The traveler's eyes clear, observing the world around his with vision as transparent as glass, as he learns the secret of his own existence.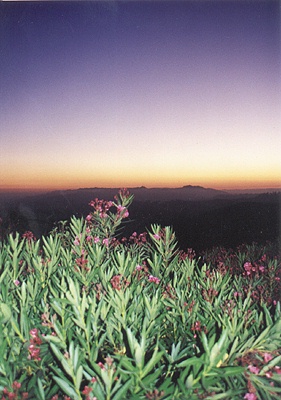 © Michelle L., Suffern, NY