Blue.
January 21, 2013
It is sunny outside, but somehow everything is still bleak. Everyone else on the street is smiling and chatting. The laughter is so light-hearted; it makes me feel like my heart weighs one hundred pounds. There are practically no clouds in the sky, and people keep pointing out how exceptionally rich and clear the blue is today. It is the strangest thing because to me the sky just looks like everything else: grey, endless and hazy.
The playground is my escape. Whenever I am lonely or confused, which seems often of late, I sit on the bench near the edge of the playground and watch the children play. It sounds a little creepy, I know, but my intentions are completely benign. I like watching the little kids laugh and blow bubbles and play in the sandbox. Everything is so simple for them. Their gravest decision in life is what to do first: slide or swing set. For the hours that I sit and watch their curls bounce and their tiny legs run around and never get tired, my life is that simple too.

I'm going to boarding school in the morning. I'm going to boarding school in the morning. I keep repeating the words in my head hoping that maybe finally they will resonate. The last 3 years of my downward spiral are all a blur. I can't figure out where I made the wrong turn. I can't pinpoint the single decision that made everything bad. Maybe there wasn't one event that made everything turn. I guess it was cumulative. I guess it was a combination of everything, and it just became too much for my mom to handle.

I don't remember so well because I was a lot younger, but I'm pretty sure that it all started with the ring. I just fell in love with it. I had already put my two pairs of jeans on the register when I saw it sitting there. It was the only thing on the counter, and it looked so lonely. I had to take it and give it a home! It was so beautiful and sparkly, and it didn't do anything to deserve such isolation. It deserved to be loved and cherished. I asked the woman behind the register to check if they had my jeans in a different size, and as she walked away, I quickly snatched the little sliver of beauty and placed it in my pocket. Ten minutes later, I walked out of the store and into the street and hailed a cab. Not a word or a quizzical look from anyone.
I am invincible. That is when I first realized it. I grew up being told that I'm just like everybody else, that all the rules apply to me. But that's when I realized it. The rules don't apply to me.
After the rush I got that fateful day in June, I knew I wanted more. The more I had, the more I wanted. I spent that whole summer pilfering and getting away with it. The filching was soon followed by actual theft. The stealing led to the lying. I had to explain to my sister and mom where all these new things kept coming from. After a little while, the lies came easily until I didn't even know when I was lying or telling the truth. At first I felt guilty, but the drinking swallowed the guilt. I'm not a bad person. I'm really not.
This day is my last day in the city for the foreseeable future. The city where I grew up and where I thought one day my kids would grow up. I thought one day they would shriek with delight when they swung from one monkey bar to the next, just like I used to do and just like I loved to watch these tiny kids do. Maybe one day I'll be back here. Maybe one day all this weight on my shoulders and the fog that clutters my brain will be lifted. Maybe one day the sky will look blue to me too.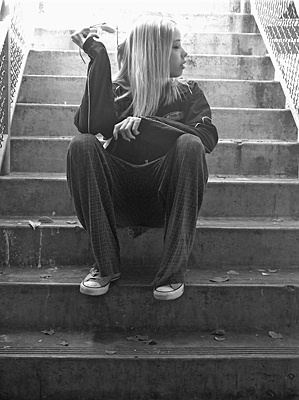 © James M, Walnut Creek, CA