The Piano
January 14, 2013
My fingers dance briskly over the polished ivory, allowing my eyes to skim the printed paper stacked across the music stand.

A few dried petals drift through the open window, trapped in a humid summer breeze and settle idly across the exposed keys. As they glide above my hands their silhouettes form darkened shadows cascading over the piano, eventually falling to the carpet below.

My gaze flickers and observes the faded keyboard, its pale colours resembling the speckled texture of a creamy, vanilla ice cream. The ebony wood appears in much better condition, causing the darkened keys to glint in the midday sun as it moves westward across the sky.

I listen intently as the tune tip-toes out into the open air, a softened lilt in the rhythm drifting into the garden and over the wooden fence. As my song progresses, the pedals beneath my feet creak under the pressure. I lean forwards in keen anticipation into the plush velvet of my stool- transfixed by the climbing pace of the music.

The notes appear to glide off my page and seemingly dance within the melody; the sounds beginning to deepen and forming in layers of rich, deepened tones.

As the song begins to decline, the swift movement of my fingers fleeting along the keys proceeds to slow, and my head tilts back with a sudden feeling of ease. A final gust of wind enters the silenced room, disturbing the pages left balanced on the stand before I stand to pull the weathered shutters together. Sunlight now ceased to be seen emanating through the raised panes of the open window, as the sounds of leaves unsettled by the breeze were stifled behind the glass.

Lowering the lid so it covered the timeworn keyboard, I turned to leave my piano, pondering upon the choice of song that would beckon me back to its ivory keys tomorrow.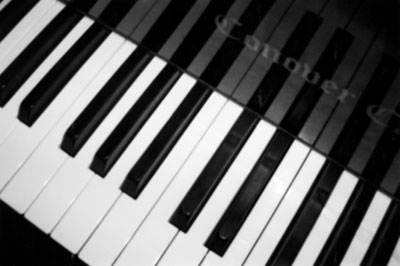 © Pearl K., San Diego, CA