Good Morning, Kyoto: A Character Sketch
July 31, 2008
With a sigh barely audible to the rest of the world, Kazuki Nakamura stared at the clock as it beeped loudly. "Why must you torture me, you demonic electronic device?" he asked and sighed, hitting the alarm clock, watching as it fell to the clean wooden floor. Unlike most teenage boys at the end of seventeen, he actually kept a clean room.


Standing up, Kazuki stretched and yawned, looking out the window, seeing the people of Kyoto walking around and socializing. He sighed. "Who in their right mind goes outside at seven in the morning?" he asked, shaking his head. Wait…seven in the morning…Kazuki looked at the clock to make sure it wasn't lying to him. "Ugh, I'm late…" he murmured, running to take a shower and grabbed a pair of blue jeans from his closet, pulling them on and falling sideways. "Darn it…" he mumbled and struggled back up. One day, those skinny jeans would be the death of him, they were the type of pants that only Gackt could get away with.


Kazuki grabbed a decent pair of jeans and pulled them on, snatching a black t-shirt from his closet and throwing it over his head with a jacket to make it all better.


Looking in the bathroom mirror, he studied his image. Pale skin, dark hair, blue eyes. He sighed, looking over to a picture of him and his father from fourteen years before. That picture and his eyes were the only thing that Kazuki could remember about his American father, his mother wouldn't tell him much about him, and Kazuki didn't want to cause her pain by asking. He only wished that he knew the man longer than three years…


Kazuki sighed and ran a hand through his hair, going back to his room and looking around. The walls were a simple white, accented with multiple band posters, Japanese and American. Kazuki had always had a fascination with all things American, seeing as he was half Caucasian, so why not try to get to know his culture?


Grabbing his bookbag, he swung it over his shoulder and looked at his guitar case. A note was attached. Kazuki raised an eyebrow and picked up the note, seeing his friend's handwriting.


"Hey, Kazu-chan! Don't forget, you've got practice tomorrow! And I had a few friends from school agree to come for your problem with small crowds. I know you can handle it! Oh, and I won't be there, I've got something important to take care of…
Well, see ya at school! ~Miharu."


Kazuki looked at the bottom of the note. It was dated from yesterday. She must have slipped the note there when I wasn't looking… Kazuki thought and sighed.


He picked up his lyric book and threw it in his bookbag, then picking up his guitar case, seeing as there wasn't much chance of him coming back to his house before practice.


Running out of his room, Kazuki saw his mother, Ayumi, walking around in the kitchen and singing. She looked up at him and raised an eyebrow. "Kazuki, you're still here? You were supposed to leave for school twenty minutes ago," she started. Kazuki nodded.


"Kinda sorta," he replied, grabbed an apple, and kissed his mom on the cheek. "See ya later! Bye!" Kazuki called to her, literally running out of the house. Ayumi laughed. "He's just like his father…" she said quietly to herself with a slight smile.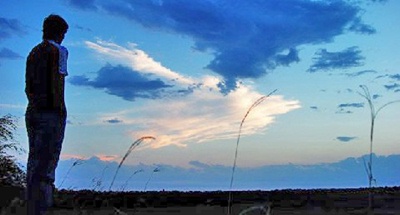 © Stefanie K., Katy, TX