The Rubber Duck
November 25, 2012
Lance Edgar Williamson appeared as any ordinary man. Every day he would stroll down Parkway and into the tourist coffee shop in the city of Liverpool, standing in line for precisely ten minutes to order his bitter, hazelnut coffee with a side of cream. His six foot tall slouch blended with the other customers just like his order among the sea of many others, the only thing setting him apart was his thick but narrow glasses that hid the sadness from his eyes. In Liverpool, any single man in his twenties carried with him the weight of loneliness.

However, Lance Edgar Williamson was anything but ordinary despite his average appearance. As he sauntered over to the green stool under the table for one, his mind would wander far away, back to his childhood that was as bitter as his coffee. He took a sip, burning his tongue and spitting his drink back into his cup.

Mr. Williamson had the ability to turn anything he wanted into a three inch by two inch yellow rubber duck. As a child, he would exercise his ability on other toys he received as gifts, but never allowing his curious parents to witness the strange act. In fact, his parents neglected to notice anything about Lance Edgar, except how he never seemed to leave their old, single story house without the company of a rubber duck.

During his third year, the children in his class began to make fun of poor Lance Edgar. They called him Four-Eyes, due to his large lenses, The Silent Idiot, due to his shyness, and The Big Baby, because he always carried with him his small, three inch by two inch rubber duck. None of these nicknames bothered young Lance, until that fateful day.

Mrs. Phillip, his third year teacher, decided it was time to confront the child about the toy he always carried with him. She said it was time to put away childish things and become a big boy, and that it was immature of him to continue with this habit. Lance Edgar remained silent, a single tear streaming down from his coal-colored eyes onto his grey polo shirt.

Mrs. Phillips was not a patient woman. At the sight of him crying, she swiped the rubber duck from his hands, and tossed it into a drawer in her desk, where all confiscated items would be lost forever. Lance Edgar's blood began to boil, his round face tightening with fury. And, with a single touch, in front of all of his classmates, Mrs. Phillips turned into a rubber duck.

Lance Edgar stared into his black cup of coffee, recalling the panic that forever isolated him as the freak at his school. Out of his pea-coat pocket, he pulled a dirty, old rubber duck, and set it next to his mug. Perhaps it was the annoying cat that would not stop meowing from a couple weeks ago. Or, maybe it was the ancient Mrs. Phillips, finally silent and forever trapped. It could even be this morning's paper, in which he turned into a toy because the news was too depressing for him to carry as a burden. Whatever the case, he fiddled with the duck between his thin, translucent hands, remaining silent as he prepared to face the day.

A little girl with red ribbons in her hair saw Mr. Williamson and the rubber duck. She giggled, "Look mother, that man has a duck!"

"Pay no attention to him," a small, but stern woman said, grabbing the child's hand to pull her away.

"Wait." Lance Edgar's soothing, deep voice echoed. "Would you like to have this? It is a very special toy that will take away your sadness."

With one motion, he grabbed his coffee, tossed the toy to the little child, and went on his merry way. For the first time in years, Lance Edgar Williamson smiled. He knew now that his gift could finally be used for good, and he wasn't about to waste it.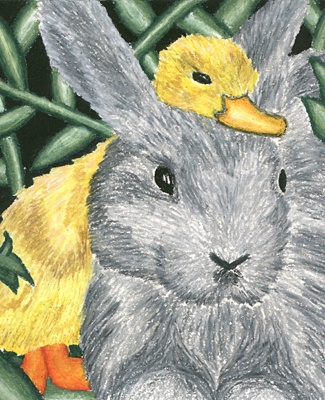 © Natasha G., Buffalo, MN