Arizona of California
July 25, 2008
Many had gone past, back and fort, as was the routine. Just a long strip of land adjoining two oposites. California: the sterio typed. the state now know for its different laws and interesting city-goers. Arizona: more within an unsettled reason, the place seen for desert, rather than a secret enchanted place.

That strip of land connecting the two lingered longer in California than Arizona, but together they were one solid pass. rather ordinary, say some who never looked at its own beauty. The pass is plain desert, with the occasional short mountain thrown in for difference. Lined with tumble weeds and other dry plants as if seasoned with them, the gravel changes from red, to orange, to different dingy browns, none looking particularly earthy.

You say also "What beauty does this strip of land contain?", but I. And only i know because it is a secret. The secret is, that there really is nothing there. nothing possible to see by the human eye. the only true treasure that stays along that empty highway is knowing you are in no paritcular place at one time. You, but unknown rules, are in nowhere until you reach the small Needles, knowing you are in the Grand Canyon state.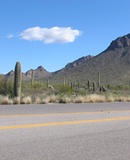 © Aleksandra K., Tucson, AZ