The Last Supper
November 24, 2012
The hospital room was the perfect sort of cold where it was bearable but you'd still want a blanket. Harold's feet poked out past the bottom of the gray blanket, his head propped up with a few pillows as he napped silently. The heart monitor beeped quietly and steadily.

His eyes cracked open as the door clicked and the doctor walked in. She walked towards him and then stopped about a foot from the end of the bed.

"Harold?" she asked quietly. He opened his eyes fully. She swallowed nervously and didn't speak.

"How long." It was a statement, not a question, and his voice did not waver.

Her eyes fell to the ends of her open-toed shoes and then rose again to meet Harold's eyes. "A week, Harold. I'm so sorry. I'll give you all the details, if you'd like to hear them." But his eyes had closed again, so after a brief hesitation she slipped out the door and left Harold to his dreams and his blanket and the beeping of his heart monitor.

He slept like that for 2 hours and when he woke, he left the room and drove home. When he arrived, the lights were all out. It was 3 a.m.

In the morning, Harold's wife woke up as the door clicked and Harold walked in. He was wearing a Hawaiian button-up and very short cargo shorts. Too short, Linda observed.

"Honey, I've got us tickets to New Zealand". He was grinning from ear to ear.

Linda pushed herself up and found her glasses on the bedside table.

"Now Harold what in the world…New Zealand? I thought you were in the hospital, Harold?"

"New Zealand honey, I've packed your bag so there's no need to worry. Flight leaves in 3 hours." He turned excitedly and started slowly down the stairs, gripping the railing tightly. "I'm making eggs for breakfast!" he called behind him.

Linda rolled her eyes. "Harold" she sighed to herself, and stumbled towards the shower.

They arrived at the airport, Harold in his Hawaiian button-up and very short cargo shorts and Linda in a purple tank top and her own very short cargo shorts, 5 minutes after boarding time. He was speaking to the attendant at the desk, his hands gripping the edge of the countertop in a chokehold.

"Please" he said slowly. "We need to be on the plane"

"I'm sorry sir," she said politely, as Harold saw the nose of the plane pass in front of the window behind her, "but you've just missed it." He looked on as the rest of the plane passed in front of the window. Then it was gone.

If he was younger, he told himself, he would have vaulted over and strangled her. Instead, he released the counter-top and turned away with a curt nod. He sat down in the hard plastic chair.

"Oh Harold," she told him, "there'll be another flight. Don't you worry, Harold, because I'm just telling you there's another flight. Here, I'll talk to her myself and-"

She stopped and she looked at Harold, right into his big blue eyes. She exhaled deeply and turned her head away. She watched a distant plane lifting off and followed it up into the clouds until it disappeared.

"Oh Harold", she said at last.
"A week, they said."
She turned and looked into his eyes again, calmly, and reached out to take his hand. It was thin and veiny and cold. Hers was too.

"Let's go home", she whispered into his ear, and she pulled him slowly to his feet.

They walked together, back through the terminal the same way they had come, their footsteps steady on the white tile.

For dinner, Harold cooked salmon with rice and green beans. They ate outside on the deck, listening to each other chewing and to the frogs and to the bugs buzzing around the candles. She smiled as she crunched her green beans. He smiled too and looked towards the silhouettes of the trees. The darkness was lit up by fireflies and stars.


"New Zealand is too rainy this time of year anyways", he said.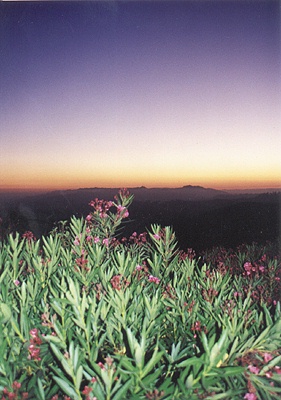 © Michelle L., Suffern, NY