Love within the Stars
November 14, 2012
It was a cold, windy February winter day in California in a big house in Beverly Hills. Four sisters live in this house, which was originally their mothers and is located directly down the hill from the Hollywood sign. The four sisters were always trying to find out ways to how to spend their day. Either it's hanging out in the pool out back, sitting on the patio or going to the mall to meet up with friends. Now the girl's mother had just recently passed away a year ago after Brielle had just turned 17, and they have been noticing strange things happening to each of them everyday since except this past month where nothing ever had happened. Twin sisters Calah and Ayden are both 18 but Ayden is the oldest out of the two. Brielle and Amber are stepsisters of Calah and Ayden, Brielle is 17 and Amber is 19. One day Brielle was the first one awake that morning. As she was walking down the stairs, she heard pans drop in the kitchen. She wasn't sure what it was so she went down to investigate the issue.
"How could the pans drop if they were in the cabinet? I remember putting them there last night after dinner." Brielle said to her self. She yelled up the stairs, "Girls wake up and get down here something just happened."
"Brielle what's wrong? Why did you wake us up?" Amber asked
"I thought something happened to you" Ayden continued
As the girls continued to ask questions, a strange floating light down the end of the hall distracted Calah before she came down. She thought she heard something calling out her name. As she walked down the hall a door slammed behind her. She was the only one upstairs at the time. The other three girls didn't hear the door slam when all of sudden this dark women like figure appeared behind Calah when she got to the end of the hall. As the figure started walking towards her, Ayden ran up the stairs because she forgot she had to clean up the upstairs living room that day.
"Calah what in the world are you doing at the end of the hall are you okay?" She asked walking towards her.
Soon Calah was clueless to why she was even there and she shook her head as if she were dreaming.
"Wait what? Yeah I'm fine I just got distracted and forgot why." Calah replied
Calah walked down the spiral staircase to the kitchen so she could get something to eat to see if it would make her feel better. After she figured she would go back upstairs to her room, as Calah was walking back up the steps, she tripped up the steps and got cut.
So Amber yelled up " Calah you okay?"
She said, " Yeah I'm fine I just got a cut on my arm."
So she tried to stop the bleeding, as she walked upstairs to her room to get a band aid . As soon as she got to her room she heard her bathroom light turn on.
She yelled to her friends " Is that you?" there was no reply.
So she went to see but nobody was there. On the mirror something was written in lipstick.
It said, "Calah watch every step you take this week it could lead you to danger"
Calah was getting a little scared so she went to go get Ayden, but when she came back up the stairs the message wasn't there. Calah was so confused and has nothing else to say. Ayden thought she was crazy, so she went back down stairs. Calah didn't know what to do after that had just happened.
"What was that all about Amber?" asked Ayden
"Calah was seeing just things again…" Amber said
The end of the day was coming close and the girls had yet to finish the upstairs living room and the kitchen. Brielle figured that if she would go and talk to Calah about what had happened. As Brielle walked up to Calah's room she seen the same light that Calah had seen earlier in the day. She screamed and all of a sudden that dark women like figure showed up in front of her and tried grabbing her. She slowly walked backwards and had no idea what to do or what was going to happen to her. Brielle was getting curious to if it was her mother trying to connect with her and her sisters.
"Mom is that you?" she asked with curiosity
The figure walked to the closest mirror and wrote "Yes it is me Brielle, I've been watching over you and the girls ever since the day I left the house. But I've been watching you the most because you are my youngest daughter and I knew you would understand better then the others. I have been making it noticeable to you all that I was in your presence, that's why there has been all the strange activity happening this past week. I miss you all very much and wish I didn't have to leave you, but I didn't have a choice. I love you all and will be watching over you forever. Love Mom"
Brielle had a smile on her face and began to cry with happiness. The other three girls heard her and ran up to see what had happened. As soon as they got up to where she was standing, the figure disappeared into thin air.
Amber asked, "What happened, why are you crying?"
"Just read the mirror and you'll understand why." Brielle answered
As they finished reading the note on the mirror they all had tears in their eyes. The fact that their mother actually came and had connection with one of them made them all happy the rest of the night. Afterwards they decided to sit on the back patio and look up at the stars. Out of nowhere they looked up and began to see a heart forming within the stars with each of the girl's first names inside of it. That heart continued stay there for the next 20 years. At that moment they finally knew their mother would continues to watch over them each and every day and that she truly did and will continue to love them. The four sisters witnessed a lot of strange things that week but nothing like this ever happened to them. They all fell asleep in their chairs with their heads to the night sky.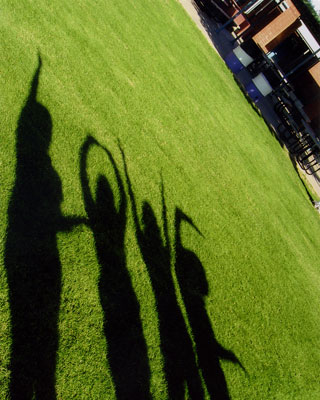 © Lindsay - Elese G., Phoenix, AZ