Watching the Unreal
July 16, 2008
Mayce had been watching him forever, in her dreams. She'd seen him going about his life, 'growing up' just as she herself was doing. For a long time she had assumed that he was another one of them, that he was normal and the dreams were a fluke, as the last two had been. But when her 'family' moved to the same area as his, and she started going to his school, Mayce had looked. Really looked, and she became captivated. She saw the three clues: eyes, hair, hands. The first one she noticed was his hands.

The school they attended was expensive, one of the best private schools in the state. Therefore, most boys had pale hands- his were tan. His were sinewy to their fleshy, calloused to their smooth, and graceful to their clumsy. She had, in her dreams, seen him doing something that she had not seen in centuries- filing his fingertips. This made them much more sensitive, more receptive to textures. The old thief's trick ensured that he could feel tiny nuances that others would miss, and he was often able to find the tiniest bumps and feel the slightest vibration. It was very useful to him, Mayce knew.

His hands brought her to his hair. As he pushed it out of his face, she noticed the tiny tell-tale signs. It was not thick, but it was far from wispy. He always wore it the same way (tip-off one) - in smooth, jagged layers. The uneven cut suited him. It was a rich chestnut brown, perpetually glossy (tip-off two). The last tip-off was its length, however. The longest layer just touched his shoulder blades. That was not how a normal teenage boy would wear his hair.

His hair brought her to his eyes. When his bangs fell into his eyes, Mayce had seen the spark. The deep, nearly green hazel was unusual, especially as the rest of his 'family' had silvery-blue eyes. His eyes did not do anything out of the ordinary- they squinted, glared, laughed, stared, and did nearly everything else possible for eyes to do. The one thing they never, ever did was flash. Not once did any amount of fire enter his eyes. There was never any true anger, only an illusion. His elaborate façade was good enough to fool most, but she could see what no-one else could see. And she knew:
Gavyn Slade was not human.
That was fine; neither was Mayce.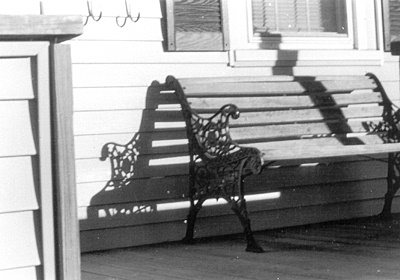 © Lauren O., Weymouth, MA