The change
October 16, 2012
THE CHANGE

"You know how the world isuppst to be happy and cheerful? Well it's not here it's gloomy and depressing, Yet somehow we manage to stay afloat, and have good times and even laugh a little now and then. It's the year 2185 we are under the rule of ligtor named after our ruler ligten. We live in a small village town called simpter. My sister's Nila and Lila and I live in a little cottage at the edge of the forest.

At a young age our mother and father had died in a fire. After that I took the head of the house old enough to be in charge yet not old enough to marry. As time went on I went through drastic measures doing so I took up stealing and hunting, but only to keep us alive. Usually Nila or Lila would ask if I could teach them to steal or hunt," Oh please rose please please please!" They would beg." You are too young to get into crime only being twelve and me being no more than five years older than you." I would reply

One day after sending Nila and Lila to school I got a letter from the house for orphans if I could not show them a good environment they would take them away from me. I have one year to provide a good home and proper environment. What was I going to do? Suddenly it dawned on me I recall hearing two men talk about a war going on. "No juvo not a snore a war! He screamed " I hear that general hander leader of the rebels is trying to take over." "Say what wilmo a war?" He muffled between his two flappy lips." Yeah I hear them whispering around that the rebels are hiring recruits to fight him. They say that for every recruit they'll give them 20,000 shilicks if they live."

Why that much money could last us two lifetimes! Yet there was a problem it was only for men only being a girl proposed a problem. With an easy solution instead of being rose wood night I will become rick bog night her long forgotten brother.

So after thoroughly explaining my plan to Nila and Lila. They processed faster than a computer chip. After hitching mille to the carriage cart I bent down and said "Be good do your homework and remember you'll be staying with uncle mink." After getting out of town I tried not to cry and failed. After about three hours I came to a clearing were I decided to camp for the night. After building a sturdy fire and setting up tent. I sat down and brought out my knife I began to slowly cut my hair until there was almost nothing left. After burning my hair in the fire. I looked in the mirror I looked nothing like my former self I had elongated features dark skin and crystal blue eyes that shone like stars.

The night passed quickly I knew I only had two more hours until I reached ninton village. Heading along the road I heard a whimper then another at first I thought it was a predator trying to sound weak to lure prey, but as I headed further towards the sound I saw it was a dog seeming badly hurt from all the blood matted in its fur. After carefully picking her up I cleaned the wound healing her with herbs. Feeding her meat and sweet tasting berries and giving her a thorough bath In the near by pond she seemed much better. I decided to name her flicker, because when she runs you can barely see her.

Soon after finding flicker I arrived in the town the air was abuzz with talk it was like I could almost reach out and touch it. After looking around I found the sign up booth getting in line I realized that I was much more feeble then the other men. Soon I was at the front "name "the husky man asked "Soldier rick night" I replied in a deep voice. "Place of birth and reason to join" he bellowed "Simpter village and for my family." I replied calmly." Ok move on "pointing to his left I saw boots guns and suites.
After everyone had signed up we were shipped off to victor village where we were trained to kill shoot and fight hand to hand combat. After three months of training we were put to the test. Real war I had killed before but not like this blood and body parts everywhere. I could see the anguish on their faces. I saw what war did to people. Yet one good thing came out of it my best friend victor he had joined the war for action, but this isn't what he wanted. It was the thirteenth day when almost all hope was lost it was around 13:45 when a million bombs began to drop from the sky. I wouldn't have known if it wasn't for flicker she sensed the danger and awoke me and victor in time for us to get away and wake everyone. We began to run for the ditches when a bomb blew off victors legs. Its almost like my whole world was falling apart I could see the life slipping from him "Victor "I screamed "No!" his last words were "Win it for me" I heard him whispered and then he died. At that very moment I vowed I would kill ligten no matter what it took. After six more months of blood shed we finally made our way to the capital several times I had been bumped up until I was the commander. I gave orders no one was to kill the president but me. So we planned to blind side them half of us on one side the other half on the other side.
I smelled smoke then a flurry of movements soon we were inside. I began to lead a group of ten towards the president's chambers. We surrounded the door ready to fight and it was a battle blood everywhere people dropping every second. As I gazed around I noticed a small crack in the wall tracing it I found a secret room I entered and saw the president bawling like a big baby I hauled him up and dragged him out. As I exited the room I noticed the battle was over only four remained two were prisoners.

I made sure after the cleanup of our nation I executed the president myself. I had nothing left to be done. So to ensure my safety and the safety of my family I devised a plan to fake my death. Putting explosives in my quarters I went in slipped under my bed and down into a hole. Sealing the latch I blew it up. After only three days home I what I had been missing love and compassion only caring about my families survival I hadn't even realized that I didn't notice the starvation abuse and poor living in my town. So after taking care of my problems I built a home for the homeless and hungry were they could receive food, shelter, and someone who cares.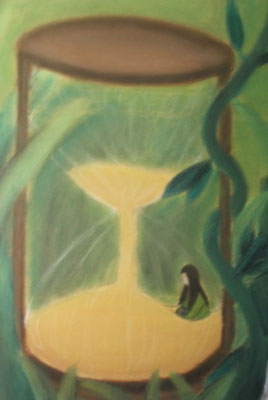 © Carollynn G., Hawthorne, NY