The Tale of Lucy
October 12, 2012
There once was a girl that went by the name of Lucy. She was sweet as a child, but changed as she got older. She went through the phase of a teen and acted out. Her grades slipped and she got very mad when it came to other girls who thought they were better than her, which would strike quite often.

Lucy was kicked out of school quite a few times for fighting. You would think she would have learned from that, but she did not. Rather her choose to learn, she chose to get in even more trouble for a boy. She wanted a boy named Ben, but he was five years too old for her and he used drugs. Lucy's mom found out and she said these very words to her, "do you care for your life at all? If you keep down the path you are now, you will die young, and I do not want to see that. Please take heed of my words to you and change my dear," Lucy heard her mom's words loud and clear, but she did not take them to heart when she should have.

On the last day of the week, Lucy was set to take off for school when she got a text from the boy whom she thought she liked so very much. The text read: 'Would you care to meet me tonight? I'll be parked by your house at eight. Just sneak out so your mom and dad won't know.' Lucy lit up and text back, 'I'll be there.' She told her mom and dad by and left for school, not knowing that the words her mom had told her were the truth and told her future.

School went by fast and eight came much too quickly. Lucy got dressed up and snuck out the house just as Ben said she should. He was there like he said he would be. Lucy got in his car and they drove off to the park. A few minutes passed by and out of the blue, a girl around Ben's age yelled at Lucy, "That's my boyfriend! Get out of the car now!" Lucy got mad at the fact the girl spoiled her date with Ben, so she got out the car to fight her.

The two girls clash, pull hair, and place scratches. Lucy then sees blood gush and the other girl steps back and weeps. Lucy smiles and thinks she won. She looks at Ben's face and he looks stunned. Then she feels a pain in her chest and sees that the blood is on her shirt. Lucy starts to panic and looks down on the ground only to see a knife in a pool of her blood. The other girl turns to run and flee the scene.

Lucy lies there on the ground while her blood leaves her body. She hears tires screech in a rush to leave. Ben left her there alone to die. She lays there while tears stream from her eyes, and asks out loud, "Why me?" She thinks about her mom and dad and the wise words her mom told her. She rues the day she did not take note of those words. Thoughts roll out of her mind as she thinks of why she is alone. Rage and fury were the cause. She could not hear any friends, cars, or sirens. There was no sign of help to come. In a low voice, Lucy says "I am so sorry," and her soul slips off.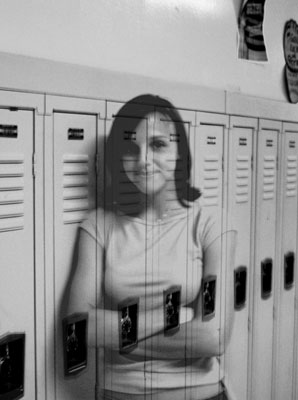 © Amy D., Troy, OH