frank
October 4, 2012
FRANK
A couple of years ago I really hated practicing. I would always find a somewhere to hide if I had to practice. I had always thought I was one of the kids who are automatically good at something they like to do. This is the story about one person who changed that.

It was October 24, 2005 my mom had found my hiding space and was now in the process of dragging me to the car. After my mom had stuffed me into the car she drove me to soccer practice. When I stepped out of the car I got mixed reactions some people where excited and screaming, "hey frank" or "where have you been frank. While others were surprised that I had shown up there was also a new kid whose name I later learned was zack.

During practice I was the slowest and least skilled out of everyone but I noticed that zack was the fastest and most skilled. After practice I asked him why he was so good and all he said to me where three words "I practice a lot". Upon hearing this I started to wonder and I practiced more and more. I continued on to become a professional soccer player thanks to zacks advice. I forget when but I remember one of my friends saying that he gave up on soccer when he broke one of his legs I had forgotten all about him until then. At that moment I had a million questions but he wasn't there to answer them. A few years later I was rushing to soccer practice when I bumped in to him. We caught up and I learned that he had quit soccer because he thought he wasn't a good player. When he said that I was shocked and told him that I was always striving to be as good as him and we agreed to play a game one day. And I never hated practicing again.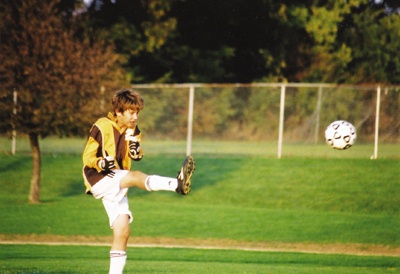 © Lori S., Springfield, OH