A Man's Homecoming
MAG
Henry's mother appeared frail and drained. She maneuvered tentatively through the bustling crowd, her head down so as not to make eye contact with familiar faces. Her demeanor was unrecognizable; her once-long, cascading curls were ragged and swept away from her exhausted face as she walked the railroad track with an alarming lifelessness. A few months ago, she could not compose herself, given to her skittish and quivery manner. Now, she was tormented by such fear and heartache that her body could not tolerate more anxiety.

Once she was able to move past the herd of high-spirited people, she sat on an isolated bench and waited. She waited for several minutes, a glazed expression on her face. She clutched her basket and periodically lifted the quilted covering to examine its contents: a cup of fresh blackberry jam and two warm loaves of bread. She stared into the early morning fog, motionless and disoriented.

She could hear his boyish giggles, and discern the image of his small body as he pranced through the fields, chanting, "Ma, look at me! I'm as fast as the wind!" Then her mind skipped to that last day, her most recent recollection of him, when he thundered into her room and declared, "Ma, I'm going to enlist." His headstrong nature had pierced her inside; at that very moment, she realized she no longer possessed control. She was weak and powerless in his mind.

She tried to imagine his new appearance, his posture after having fought in the war. As her imagination sparked, she could not help but feel that excruciating void grow in her heart.

Before she could organize her thoughts, the growing rumble of the train echoed. She could not quite grasp the idea that Henry was about to descend from a train car. The clamor of the people and the blaring of the engine was overwhelming. At that moment, she had a great desire to abandon the train station altogether and wait for Henry's arrival at home. He wasn't expecting her here, anyway.

Then the door of the train unlatched and the soldiers, battered in their blue uniforms, quickly displayed jubilant grins as they embraced loved ones. Henry's mother rose from her bench and scanned the identical young men. A sharp cry rang out from the child next to her, and she moved deeper into the crowd, searching. Amidst the array of faces, her heart began to race. Then she felt a tap on her shoulder.

It took her a full moment to register his presence; she gaped at his filthy uniform and thought, That needs some good washing. She could not gather enough strength to look at his face.

"I missed you, Ma. " The sound of his almost familiar voice struck a chord within her, and her eyes shyly met his. He politely lifted his cap, unveiling his true countenance. The glint of his dark brown eyes assumed the unspoken truth. Underneath the thinner, gangly figure and unkempt beard stood a different person. He wore a quiet pride, an air of selflessness and chivalrous courage. And then the young man took it upon himself to lovingly clasp his mother's hands. At that moment, all became familiar. For the first time in months, Henry's mother smiled at her son.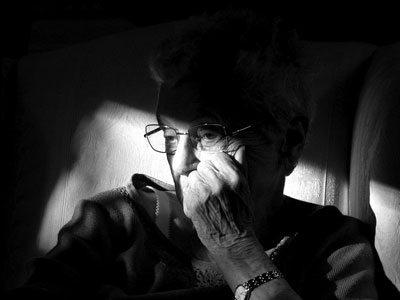 © Kate S., Hopkinton, MA