Magic
September 1, 2012
When I was little I Saw magic everywhere, nowhere I looked was bare. I would walk outside and look up into the sky. What did I see? I saw not how birds would fall nor how the wind would whip at everything in the sky. But I saw how a flock protected and cared for its own. I saw how the wind would sing its own song and if you listened close enough I could hear it too.

I would run through the grass as free phoenix. I would not focus on the itches that appeared or the bugs everywhere. Instead I'd see the family of ants, snails, and whatever else I might come across. I could see how the wind would gently dance with a daisy and let out a giggle. Next I would dig my bare toes into the fresh dirt and imagine that I could feel the earth. I would see that everything is connected to the earth no matter what.

After tumbling to the ground and gave a yelp. What had I fallen on? It was a toy soldier. No not a toy soldier a knight. A knight that led his brothers in arms to protect the castle and its innocents from any and all that harmed. Many may parish but in the end we shall prevail.

I look back up but not to the sky or the house on the hill, or the mountains in the distance where the skyline goes to space. But I look up and see that color like blue, red, purple, and many more swirl around to make more. I see Fae, pixies, Sadhe, and the invisible at work. They flit around Unseen at work to make the world as we see it and more.
I'd smile as I saw before I ran back to the house to See another day.
As I grew older I stopped seeing until I could no longer. As the years went on if I listened hard enough strained until I panted I could hear the world's music. But as I became one with logic the magic faded until I could only Feel it. But sometime knowing the Magic was there was enough to put a smile on my face. If nothing else I know magic but I See Logic.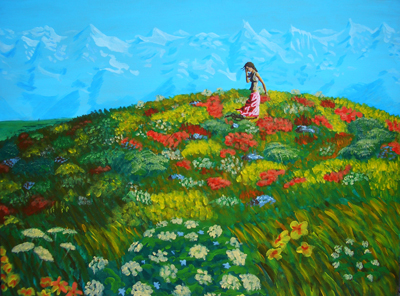 © Allison F., Langhorne, PA