Milk... More Then Just Calcium
August 25, 2012
Cow's milk is known to most as the white liquid secreted by a female cow during lactation, and is feared by children who are forced to drink it by their parents. Milk however served a different purpose for me as a child; it was more than just the liquid substance in my cereal, it was the provider of many great memories and the partly responsible for who I've grown to be. At supper time I would drain my sippy cup and beg for seconds. After a while my mother literally had to start limiting the amount of milk consumed in our house, if she hadn't we probably would have chugged through two gallons a day. Other than a beverage of choice among my household, milk was the main thing that kept us together, we thrived off from morning chores, and afternoon tasks.
One of my earliest and fondest memories of my grandmother is of me sitting at her Oak kitchen table, watching contently as she poured a centimeter of Hersey's chocolate syrup into a glass, topped it off with fresh milk, and finished with the addition of a bendy straw. Unlike my mother, Gram trusted me to sit at the table, slurping down the sweet concoction, without the use of a sippy cup. Whether or not this was because she had no sippy cups, or she actually trusted me, we will never know.
Another great childhood memory is one of us always fighting over who would have to go to the barn to get the milk—it was a nightly occurrence. During the summer, Kelly would drive my mom's old Chevy Astro minivan to the barn to get milk. At the age of eight she would call me a wussey for just coming along for the ride, having no interest in driving. I however had my own issues for not wanting to, my anxiety arose from my father leaving me in a running vehicle on an icy hill in mid-January, as you might guess, the truck slide down the hill with me in my car seat. Despite the fact that I survived, unharmed, along with the truck, I remained reluctant to not learn how to drive until I turned thirteen.
Because I was deathly afraid of the dark and even more afraid of entering the barn alone at night, during the winter Kelly and I would make a compromise to pull each other one way to the barn to fetch the milk. Unfortunately she would always pull me to the barn, so naturally I would be the schmuck who had to pull her to the house, with a gallon of milk, up the slick hill, in the dark. Usually this resulted in me falling halfway up the hill, or getting frustrated with Kelly's constant taunting, and letting go of the slid string, sending her back down the incline, and increasing the amount of crude words spewing from her mouth.
Another great memory due to milk was the first year I rode down to the New England Holstein Sale with dad and Haley. As I remember, it was a frigid October day, and after sitting in a warm truck for four hours, sitting in the subfreezing temperatures watching cattle run through the sale ring was exactly my idea of fun. Finally the sale finished, and I was relieved to be going home, unfortunately the dozen cows we bought that day had to be milked out before we left. Two hours later, we piled into the truck and were on our way. By the time we were at the rest area in Gray, it was almost ten o'clock, making it twelve before we would get home. Knowing we had to feed the bull calf dad bought, we called mom to ask her to have things ready when we arrived back in Atkinson. Skeptical, mom fell back asleep without setting out a bottle of milk or making a pen. At twelve thirty we pulled into the driveway of Patten Farms, none of the barn lights, or house lights were on. Two hours later Haley and I went to bed, and dad started morning chores.
Throughout the years milk has served to be a source of entertainment and exhilaration for me. I wouldn't have wanted to have grown up any other way, without milk I can honestly say that life would have proved to be boring over the past seventeen years. It is inapt to place the responsibility of one's character in the hands of something inanimate, yet at the same time, the truth is almost always different than one's expectations.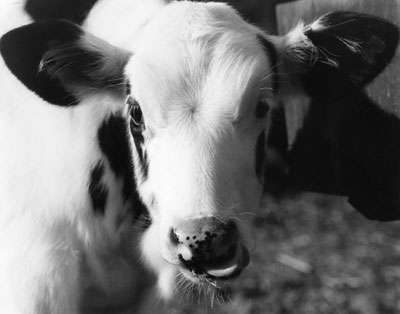 © Chelsea B., Troy, MI