Language Barrier
August 18, 2012
La fille petite twittered around the square, with apricot arms flapping around, a freed bird. She kept babbling in English, referring to everything in the third person, thinking the language was as intricately carved as French, with the verb conjugations and all those other complex details of spoken word. And since she only knew one form of each verb, she couldn't possibly speak with "I". A man walks by with a wrinkled plastic bottle, and she says to him, "He drinks the water." The man's head wrinkles, lips purse like a tortoise, and he disappears into a swelling crowd. A lady jogs by, and the girl says, "She runs fast." Lady looks backwards and fowards, trying to find her competitor with jealous eyes. Tugging on her mother's dress, the girl points to a nearby sundae parlor, and then at herself. "She wants the ice cream," she cries. Not waiting for a response, she runs to the cashier and points to the frozen buckets. "She wants the ice cream."

"Who?" the cashier's head wrinkles, skin crinkling around the reptile-eyes.

"She wants the ice cream!" the girl cries again. Her mother rushes over, and tries to drag her away. Familiar words of her native tongue rush into soft ears, but the little girl pretends to not understand, and pushes her fingers away.

"She is free!" la fille petite shouts, and she can try to run, but she's still trapped inside the voice of everyone but herself.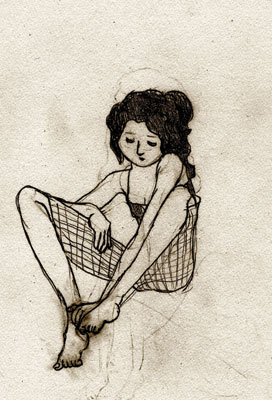 © Samantha W., Albany, NY