Blackness
August 17, 2012
Blackness. A hole. A tunnel. I don't know what to call it anymore. I neither fear nor wish it would disappear – I welcome it with unseen hands. I've been partnered with it, below the world above. Or am I above the world below? I'm too lost among the darkness to ever know. My feet hit the cold, stone floor in agile steps. An echo produces itself, throwing the sound of my shallow breaths against the black walls. So many questions swim through the rivers of my brain, though they remain unanswered. My thoughts dive beneath the waves, in search of even just a single word as a response. Curiosity claims yet another victim, drawing it into its impurity and drowning my ponderous mind. I will never be answered.
I wonder, I crave to know who I am. What do I look like? I don't think I'll ever be seen. I feel nothing, not even a breeze. I'm not frightened, not the least bit, to be stuck in such a crisis. Maybe there's a reason for my black abyss.

There has to be one.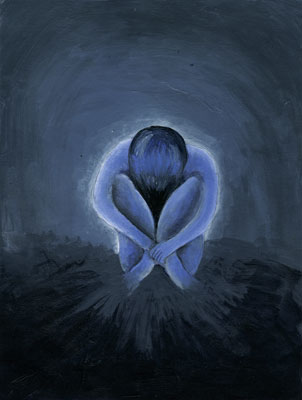 © Becky F., Sacramento, CA