The Song of the Wind (part two)
August 2, 2012
Gripping the key in my hand is so cold; so hard and unnerving. I keep squeezing until the key is pressing so sharply into my skin it hurts. I walk right out of the empty room, leaving my scattered stuff on the floor. It doesn't matter anyway. I just need to find you, since you didn't answer your phone. I run down the halls, hoping to see you turn around a corner, catch a glimpse of your hair or shoulder skimming across the hall. But I don't see you, not even a strand of your hair. It's like you weren't here at all! Not one trace of the light you carried remains.
Even the sky has gotten cloudy.
Then it breaks. It rips apart and rain pours down in heavy torrents, casting shadows along the hallway walls. I stop to look out the window at the rain. You said a long time ago that rain was an escape. You said no more than that, just that it was an escape. But from what?
Out of the corner of my eye, about 20 feet away, I see a small light. Smaller than the key gave off. If I wasn't still thinking about you and wanting to find you I might not have noticed it. It's coming from the window, like a reflection off something. I go towards the small light and I see what it's coming from. The rain; But to be specific, one raindrop. If anyone were to stare at this drop intensely like I was, they would notice that in it is a sunny world. Like that sunny reelection was captured in that droplet and sent down to Earth to lighten the rain. The patch of sunshine in the drop is a patch of sky. It's so deep and blue and perfect, I can't help but think you sent it to me.
This is the sunlight rain you told me about. As soon as that thought runs through my head I hear a small tinkling sound coming towards me. I look towards the sound at the other end of the hall and see a small glass vial roll towards me. It's empty, so I can assume you sent it. But how? I would have noticed if you were just down the hall. I guess it doesn't matter because I pick up the cool glass and, even though the rain drop is outside the window, capture it. Looking back I know that the drop seeped through the window pane, but at the time I thought only of you.
Where were you and where was my book?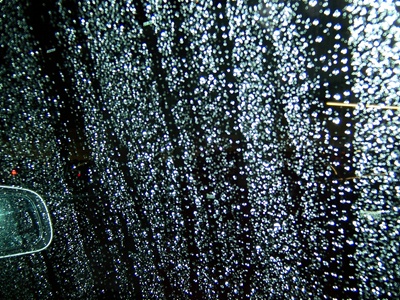 © Jessica L., San Jose, CA